I have to admit, I understand why some people prefer Android phones. They just want a mobile device to make phone calls, and enjoy the occasional bells and whistles. They might not take a lot of photos with their phone, but that doesn't mean they never will.
Android allows people to test the waters of the smartphone without having to invest heavily in an iPhone (or maybe some people just hold a grudge against Steve Jobs). Whatever the reason, Apple fans are like film geeks pushing widescreen on people who want to watch Blu-ray in fullscreen. It doesn't make much sense, but who really cares. However, tablets are another story, a tablet is more of a privilege than a necessity to some. So it makes sense that more tablet buyers prefer the iPad over other devices.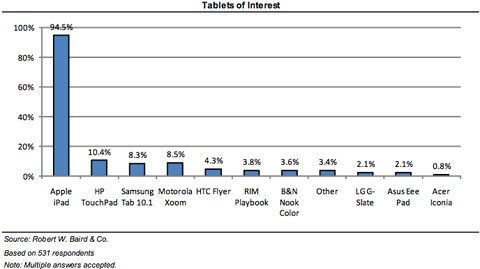 A report published by Robert W. Baird, a Milwaukee-based wealth management and analyst company, revealed that 95 percent of people who own a tablet or plan to buy a tablet prefer the iPad. Ten percent chose the Hewlett-Packard TouchPad, eight percent chose the Samsung Tab 10.1, and four percent preferred the BlackBerry Playbook.