After dropping several hundred dollars on an iPad, most users will be interested in protecting their device. Apple's tablet is designed to go anywhere, however this also means a high level of risk for breakage, theft and even water damage. The obvious way to protect the iPad is to purchase a case or cover, however this is not a full-proof solution.
The included iPad warranty from Apple will protect against manufacturing defects, but AppleCare doesn't cover broken touch screens, vandalism or theft. Statistics show that most tablet and laptop computer failures are due to physical damage.

Worth Ave. Group provides insurance policies to cover a wide variety of adverse events that could happen to your iPad, including theft. AppleCare will not cover any damages from handling, much less damage from fire, floods, earthquakes, tornadoes or lightning strikes.
The iPad is Slippery
Your new iPad comes with Apple's free telephone technical support for 90 days and a one-year limited warranty, plus the option to extend this coverage on both fronts up to two years with AppleCare. Unfortunately, if drop and break your iPad or accidentally dunk it in the swimming pool, Apple will not cover the cost of a repair.
So how can a Worth Ave. Group iPad insurance policy help?
What Does Worth Ave. Group Cover?
Insurance coverage with Worth Ave. Group is the most comprehensive we've seen. A $50 deductible doesn't seem so bad if your car gets broken into and your iPad is stolen. Nor does it seem high if you're iPad gets smashed in an earthquake, or gets taken in a foreign country. In fact, damage from lightning surges, vandalism, accidental drops and spills, hurricanes, fire, flooding and theft are all covered by your policy, no matter where you are on the planet.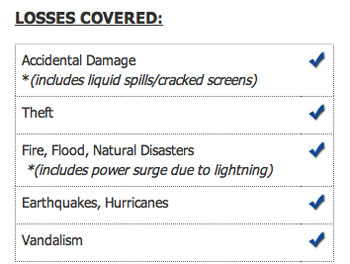 As with any insurance, proof of theft or vandalism is required for these types of claims in the form of a police report. Worth Ave. Group policies do NOT cover screen protectors, cases, music files, apps, or any other data stored on the iPad.
How Does Worth Ave Compare?
Other ways to get coverage for your iPad do exist. AppleCare for the iPad costs a flat $99 to add the second year of warranty coverage (the first year is free). Unfortunately, Apple clearly states that "damage to the Covered Equipment caused by accident, abuse, neglect, misuse" is not covered by AppleCare. Nor are damages resulting from "fluctuation or surges of electrical power, lightning, static electricity, fire..." you get the idea.
Depending on your insurance company, renter or homeowner insurance may be extended to cover electronic devices such as the iPad. The main problem is that homeowner insurance deductibles can be $500 or more, which means a 16GB Wi-Fi only model can be purchased new for the same price as the deductible!
Different credit cards have vastly different warranty coverage options to cover purchases such as the iPad. Using a credit card with an accidental damage protection plan will not cost you any additional money, but most of these plans cover accidental damage for the first 90 days. This is great if you don't drop your iPad after the first 90 days.
True Insurance
Worth Ave. Group provides a persistent policy for the iPad, meaning that after you make a claim, your policy is still in force after the iPad is repaired or replaced. The deductible and premium remain the same. Worth Ave. Group does reserve the right to drop your coverage or refuse an annual renewal in the event that multiple claims are made during one policy period. To be fair, on rare occasions this makes sense as Worth Ave. Group wants to keep premiums affordable.
How Much Does Worth Ave. Group iPad Insurance Cost?
Premiums are paid annually and can be started at any time after the purchase of your iPad. Worth Ave. Group charges premiums based on the value of your individual iPad model as seen in the chart below.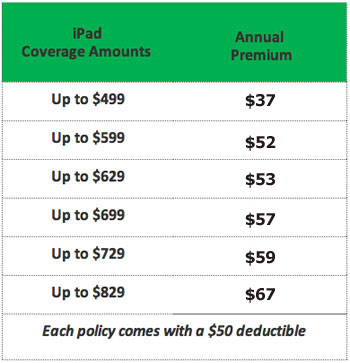 If your iPad is the 16GB Wi-Fi only model, it costs less than two years of AppleCare for two years of Worth Ave. Group iPad insurance, covering accidental damage and theft. In the event that you need to make a claim, the $50 deductible means you're still coming out ahead if something happens to your iPad that Apple doesn't cover. With more expensive models of the iPad the premium does increase, but a year of Worth Ave. Group iPad insurance beats replacing a stolen or broken $600-$800+ iPad.
Worth Ave. Group does not cover manufacturing defects, however as an iPad owner your first year of AppleCare warranty service is free.
Other Things to Consider
Worth Ave. Group provides a complete refund for any reason within the first 30 days of a policy. When canceling after the first 30 days, Worth Ave. Group refunds a pro-rated amount, however they will keep a minimum of $20.
Unfortunately, the process of assessing damage to your iPad and/or getting a replacement can be time consuming. One drawback of Worth Ave. Group policies that some iPad devotees might not like to hear about is a 4-6 week processing time for claims. Worth Ave. Group's claims department turns around iPad-specific claims in one week or less, assuming there's no evidence of fraud. Proof of ownership must be submitted (in the form of receipts, etc.), police reports filed, estimates for repair obtained and the like. Worth Ave. Group is a grown-up, actual individual electronic device insurance policy to which paperwork is no stranger.
That being said, for a $50 deductible and a reasonable annual premium, you have complete peace of mind that your iPad is covered from theft, damage, natural disasters or vandalism worldwide.
Conclusion
For iPad theft and accidental damage insurance, Worth Ave. Group proves to be a smart choice. We like the flexibility of purchasing coverage after the iPad purchase date, the refundable premium option and an annual policy renewal. The $50 deductible is reasonable considering the extensive list of losses covered.
Get more information and details on Worth Ave iPad insurance from the official Worth Ave. Group web site.