Well you've just spent between $499 and $829 for your iPad, how can you be sure your investment is protected in the event of an accident? Apple's tablet is extremely portable, which also means exposure to the elements and a constant risk of breakage in transit. The included iPad warranty from Apple will protect against manufacturing defects, but AppleCare doesn't cover cracked screens or water damage.
Statistics indicate that most tablet and notebook failures are due to accidental damage. SquareTrade, a licensed insurance provider, offers iPad protection that fully covers accidental damage from handling (ADH), among other things. The company has been in business since 1999 and has sold millions of warranties.

According to SquareTrade, "drops, spills, water damage, battery failures or any other failures from normal use or accidental damage" are all covered under their plans. This is the key difference between SquareTrade's insurance and other coverage options such as AppleCare.
Watch that iPad
Your iPad comes with Apple's free telephone technical support for 90 days and a one-year limited warranty, plus the option to extend this coverage to two years with AppleCare. Unfortunately, if your iPad is dropped and damaged or accidentally gets soaked, Apple will not cover the cost of a repair.
Let's take a closer look at the features in SquareTrade's iPad warranty.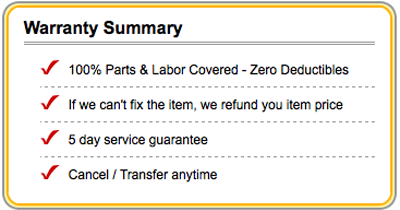 Claim Deductibles
One of the best features of the SquareTrade iPad plan is that there's no deductible and no shipping charge. If you need to send your tablet for a standard warranty repair or an accidental damage from handling (ADH) claim, everything is completely covered. Some other insurance products we've seen have deductibles of $100 or more. With no deductible, the iPad plan is even better than other plans that SquareTrade itself provides, including coverage for the iPhone.
Repair Costs
Repair costs for a broken iPhone screen run $200 at the Apple Genius Bar. We could only guess at the repair cost for the iPad screen, but it's probably even more. SquareTrade will cover your iPad for up to 3 years, one additional year than the maximum AppleCare plan. Not only does this extend the same coverage as your manufacturer warranty, it adds full protection from accidental damage. Depending on the state of your iPad, SquareTrade will either repair, replace, or reimburse the replacement cost of your iPad.
How Does SquareTrade Compare?
There are other ways to get different kinds of coverage for your iPad. Some of the options are discussed in this FAQ, however in our opinion SquareTrade has emerged as a leading contender.
AppleCare for the iPad costs a flat $99 for the second year of coverage (the first year is free). As we've already mentioned, the weakness of this plan when compared to SquareTrade is that "Damage to the Covered Equipment caused by accident, abuse, neglect, misuse..." is not covered by AppleCare.
Credit cards vary widely in what additional warranty coverage they will provide to cover purchases such as the iPad and other electronic devices. Although using a credit card with some kind of accidental damage protection plan will not cost you any additional money (unless you're paying interest), most of these plans will only cover accidental damage for the first 90 days. This pales in comparison to a three-year coverage period.
Depending on your existing insurance company, homeowners or renters insurance may be extended to cover personal articles such as an iPad. The problem is that homeowners insurance deductibles can be $500 or more. Doesn't make much sense for an iPad that costs $499. Even if the extended coverage is not subject to the standard deductible, you'll need to get the iPad repaired yourself, and it's possible you will face a complex and time consuming claims process.
What Does SquareTrade Cost?
For no-deductible accident coverage SquareTrade comes at a reasonable price. iPads are covered for two years at $48 per year, or three years for $45.33 per year. Four dollars or less per month for peace of mind isn't bad. The cost is pretty much the same as AppleCare when you look at per-year cost, except you're not getting any accidental coverage with AppleCare and you're limited to only two years of coverage.
You can drop coverage on your iPad at any time and SquareTrade will refund the cost of your plan for the time remaining.
What Else Do I Need to Know?
Theft or loss of your iPad is not covered by SquareTrade, which is SquareTrade's most unappealing feature. While having drops, spills and other accidents covered adds a great deal of peace of mind for iPad owners, knowing that theft is covered would add even more. Unfortunately this would likely push the cost of coverage even higher. We'd like to see SquareTrade add an option for theft coverage on iPad policies in the future. One plus is that if your iPad is lost, you can drop coverage on your iPad and SquareTrade will refund the cost of your plan for the time remaining.
Remember that without AppleCare in year two, you'll be dealing strictly with SquareTrade for iPad warranty/coverage issues. No more visits to the Genius Bar. The only drawback here is parting with your iPad, however SquareTrade guarantees 5-day service. If your iPad isn't back in your hands in 5 business days the company will refund the cost of your coverage.
Accidental coverage begins on the day you purchase your iPad if the SquareTrade plan is purchased on the same day. Otherwise, accident coverage takes effect 30 days after the date of purchase. Of course, if you deliberately damage or misuse your iPad the warranty is invalid.
How Do Users Rate SquareTrade?
SquareTrade's insurance plans and service have received near perfect consumer ratings on NexTag and Epinions, and have received an A+ rating from the Better Business Bureau (BBB). All warranties sold by SquareTrade are covered by Amtrust, an A- rated insurance company.
Conclusion
If you're looking for added peace of mind, accidental damage coverage, and a warranty extension beyond Apple's one-year AppleCare, SquareTrade's plan comes at a very reasonable price and is backed by a strong reputation.
For more information on SquareTrade's iPad coverage, visit the official SquareTrade web site.