The iPad and the seemingly never ending quest for the perfect case continue to occupy my time. Hard shell or just scratch guard? Rubber or leather? Some may find this to be a daunting and tedious task. I do not. I am not ashamed to admit to be being a bit of a geek. I mean I spent last weekend installing Linux on an old desk top computer. I had never tried Linux before and was really looking forward to checking it out . I had a great weekend doing it and really enjoyed playing around with it. By the way, I recommend anyone with an older computer they are thinking of retiring try this. The newer versions are surprisingly easy to use and you don't have to be a total nerd to use it. It reinvigorated my old, formerly Windows, machine. Anyway, when I told some people at work about it, most gave me funny and confused looks. One girl even asked, "What was fun about that?"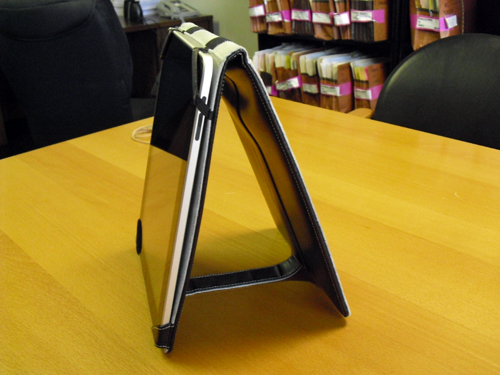 Well the quest continues today as we take a look at the Platform Jacket. M-Edge makes cases for everything. That is their business, so I was excited to review this offering.
Form Factor
The iPad is not treated enough like an actual pad. Many of the cases open horizontally like a book as opposed to vertically like an actual pad. The Apple case is one of many examples of this. Well the Platform Jacket opens vertically like a "true" pad. I like they the way it functions. It took a little getting used to because I have become used to horizontal book-like use. After you wrap your head around that, it is quite nice. There is a rather long strap that hangs off the bottom that slides into a slot on the other side. The strap can be a little a annoying, but there is a reason for it which I'll discuss later. For those of you who prefer the the horizontal style, M-Edge makes that too.
The case is made of leather. The leather has a higher quality feel when compared to other leather cases I've seen. It is available in black, marbled red and pebbled purple. It is nice to see that there is some selection on this front. Often you only get to pick black or maybe brown.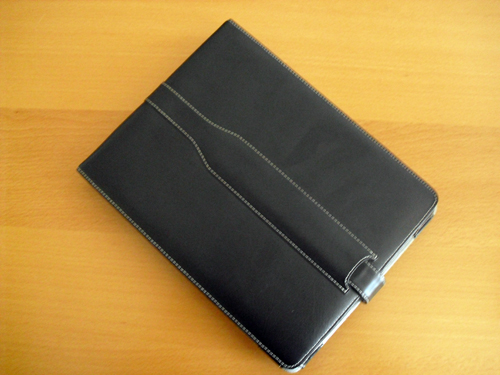 The interior is made of soft grey micro-fiber. There is a large sleeve for putting things in and a card slot.
The case feels surprisingly solid. Other leather cases do not have that feel. Mostly they feel like the manufacturer wrapped leather around a piece of cardboard leaving the case with a flimsy feel. This is not the case at all with the platform jacket.
Functionality
Initially, the case has a rather rigid and uncomfortable feel to it. However, after a few days of use, the leather seems to get "worked in." This reminds me a little of a baseball glove. When you first get it the rigidity seems to make the item unusable. As time goes by it gets more and more comfortable. I actually took this as a sign that the leather was of good quality. The case feels very nice to use now.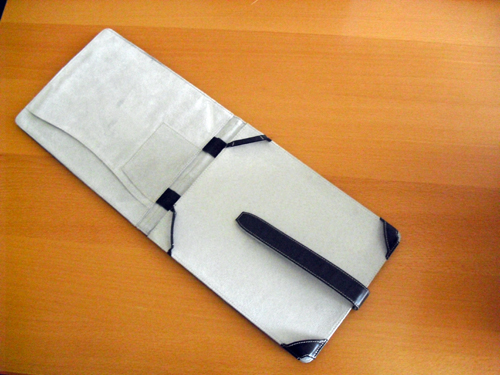 The rigidity of the leather and that long strap are helpful. These allow you to use the case as a stand. It works in both landscape and portrait mode. I feel this is an innovation any good quality case should have. The iPad sits securely when the stand is employed.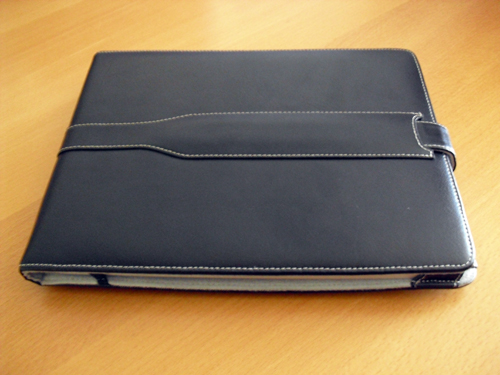 The iPad is easily placed in, and removed from, the case. One of the speaker slots is partially blocked, but I did not notice any problem with this. The accelerometer lock is partially blocked, but still usable.
The rigidity also provides some protection. The case feels like it can take a bit of a beating. Compared to other case I've used, this one inspired quite a bit more confidence if you were to drop it. I have thrown the iPad with the case on it in the trunk of my a car a few times without any negative consequences.
Coolness Factor
The case is nice and simple. It looks and feels pretty cool. Once you have broken it in you will really like the feel of it. People know you are carrying something cool, but can't tell that it is an iPad. The extra long strap can be used to secure your hold on the case, but I don't think many people will use this "feature."
Pros
High quality leather
Nice look and a variety of colors to choose from
Offers more protection than most in its class
Can double as a quality stand
iPad can easily be placed in, and removed
Cons
Some minor interference with functionality
Relatively hefty price tag
Long strap can be annoying
Should You Buy?
The Platform Jacket will run you $59.99. This is pricey for a case. That being said, you do feel like you are getting some quality for your dollar, so it feels like it worth it. I do recommend this case. It is easily the best one I have seen so far.
Rating: 4.0 (out of 5)