You might have a lot of videos cataloged on your P.C.  Maybe you loaded your entire DVD collection into a massive hard drive or on your computer.  Maybe you are an evil pirate who is addicted to bit torrent. You have the entire series of lost, and you want to be able to analyze it frame by frame on your iPad so you can impress the ladies.  You have an iPad and can't be bothered to convert it to Apple friendly formats.  Or maybe you just don't want to use up precious memory space on your iPad.  Well you have a solution now!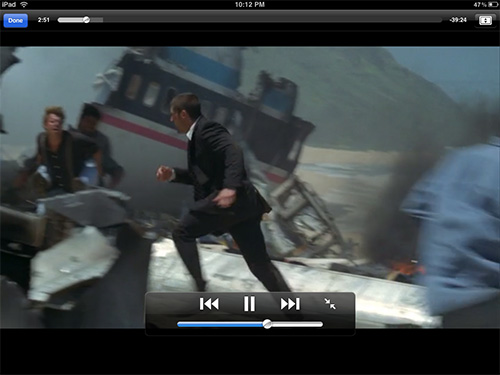 I must admit that when I first heard about Air Video I was suspicious.  I did not think that there was really an app out there that could do everything it said it could do.  At least not do it easily, well or for a reasonable price.  Air Video does everything it says it will do, easily and for only $2.99.  This is one of those apps that you would hope for on the iPad.  An app that truly enhances the capabilities of an already great product.
Frankly, I am still surprised that it works so well and can do everything it does.      
What it Does

Converting videos for play on an Apple device can be a headache.
Air Video completely eliminates this.  Whatever format the video is in on your P.C. or Mac, it can automatically be converted and streamed directly to your iPad from your computer.  I literally mean any format.  I could not find reports of any formats not converting.  Of course, DRM protected videos are not supported.  That means you can't stream the stuff you have legally purchased through iTunes.   

Playback is done via WiFi or 3G.  You can allow access from folders on your computer containing downloaded content.  You can also stream videos from iTunes playlists. You are also able to add videos into iTunes playlists. 

Your video library can be accessed remotely.  You just need to create a PIN and you will have remote access to your library.  You do have to leave your computer on to do this.  It works.  Mind you, if you are doing this over a limited 3G plan, I imagine that it could get expensive.  You can also share your library by sharing your PIN with friends.  Make sure the videos you share are videos you want others to see.  I shudder to think about some of the stuff big time torrent addicts might own.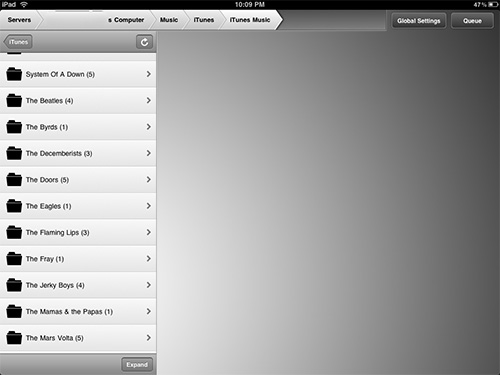 Streaming quality is quite good.  It is obviously going to be better when you are using it locally.  However, it is still acceptable when you aren't able to do that.    

Usability
If you are using bit torrent, then you are probably nerdy enough to find this section useless.  Everything is very usable for this group of people as long as it does not involve interaction with another human being, who isn't their mother,  in person.  That being said, even if you aren't one of these people the app is very user friendly.  After you purchase the app, you have to go and download the free software onto your computer at http://www.inmethod.com.  (they probably should get something a little more obvious)  I tried this on both a Mac and a P.C., and found that both were equally simple to use.  You then select the folders you want to access and you are finished.  That is all there is to it.  It is extremely simple.  Setting up remote access is a little trickier, but really simple as well.
You can play the videos in your library immediately with real time conversion as the video streams.  With a little buffering, the video will play.  It functions very much like a video on You Tube does.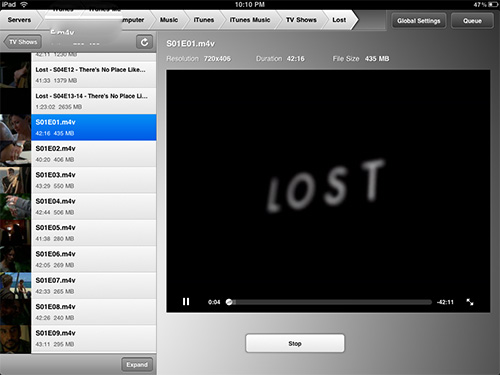 Alternatively, you can place the video in a queue to be downloded and converted onto the Air Video server.  This provides you full access to the video and fast forwarding and rewinding.  However, you still need to be connected to the server to do this.  You never download anything to your iPad.  That is the point of the app.  All this does is eliminate realtime conversion as the videos stream which eliminates any buffering hiccups.  This does not allow you to disconnect from the server and watch without WiFi or 3G.  
Pros
It is super cheap at $2.99.
Very simple to use, even for non techno geeks.
Allows you access to very large amounts of video without taking up valuable memory.
It works very well.
The sort of great app that you hoped for when the iPad came out.
Cons
Conversion can be slower on older processors and I mean quite a few years old.  You shouldn't have any problems on dual core machines.
I guess the interface could be a little snazzier, but this is really doesn't hurt the app.

 
Should You Buy?
This is the best app I've seen so far.  It is cheap, easy and works really well.  The $2.99 price tag is well worth it.  I am surprised it is so cheap.  There are similar apps out there, and they are quite a bit more expensive.  The app works so well I had a hard time figuring out a negative thing to say about it.  Yes, you should buy.  Do not waste your time with with the limited free version.  
This is one of those apps everyone should own.  Even if you only have a limited video library.  It turns your iPad into a remote video consumption device; with your entire video library at your finger tips.  This is the sort of app that really improves your iPad experience.  Air Video takes full advantage of what the iPad can do.  This is the sort of app you would demo for people when you are showing them some of the really cool things that the iPad can do.  
Rating: 5 (out of 5)