The Acme Made Skinny Sleeve has a sleek look and protects the iPad from dings and scratches. The sleeve is made with shiny StretchShell neoprene, which repels water and stains. The Skinny Sleeve comes in white and black and fits the iPad like a glove.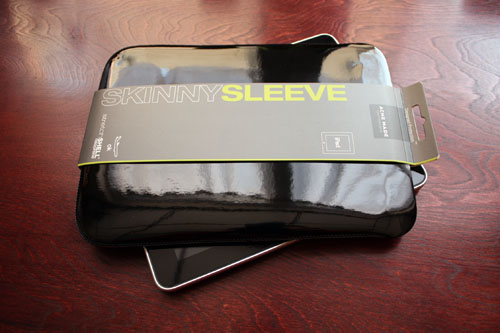 This case is incredibly thin even though it's solidly padded, perfect for tossing the iPad into a bag or backpack. The Acme Made logo is subtle and is pictured here in silver on black. There are no zippers or snaps on the Skinny Sleeve. Nothing interrupt the simple, polished look of the case.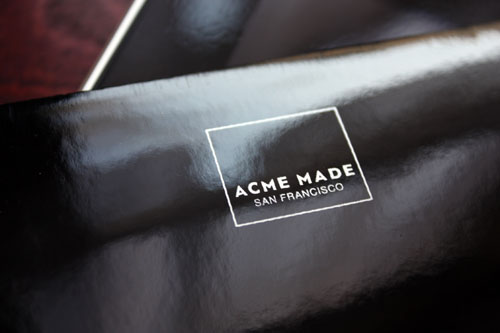 The seam has four rows of stitching, two in white for an accent around the edge. The stitching is reinforced at the opening for durability. The interior of the case is more of a traditional neoprene texture, soft and pliable. This material does a good job at preventing scratches on the iPad.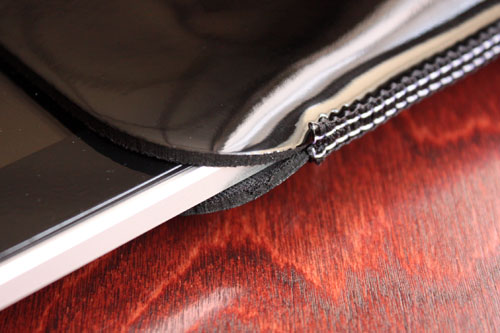 Sliding the iPad in and out of the Skinny Sleeve takes some effort thanks to its tight fit, however this is not difficult. The good thing about its slim profile is that the iPad stays put inside the sleeve. When the iPad is installed, turning the case upside down results in the device staying put. Unless you shake the Skinny Sleeve up and down the iPad doesn't even budge inside the elastic neoprene.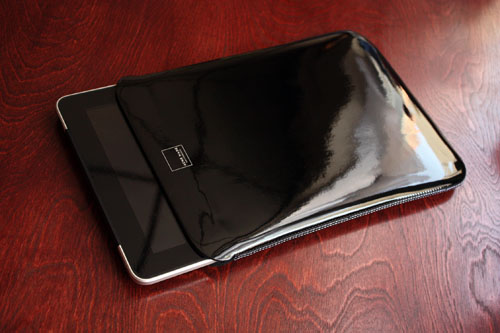 The front side of the Skinny Sleeve features a rigid interior screen protector that goes against the front of the iPad. This stiff layer inside the case gives extra protection to the glass screen from impacts and bending. The layer makes this case feel even more secure and helps the Skinny Sleeve keep its shape when the iPad is removed.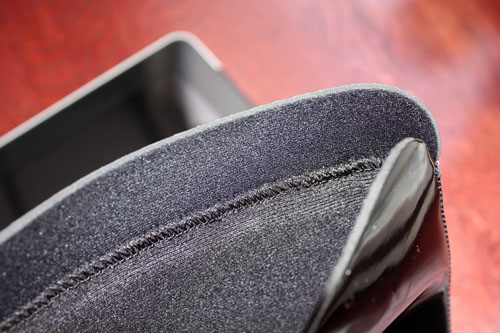 Acme Made has a quality product in the Skinny Sleeve. Our only complaint is that due to the shiny nature of the StretchShell neoprene exterior fingerprints can accumulate quickly. Fortunately they are easily wiped off of the slick surface. Those looking for bump and scratch protection for their iPad without added bulk or flaps will enjoy the fit and simplicity of the Skinny Sleeve.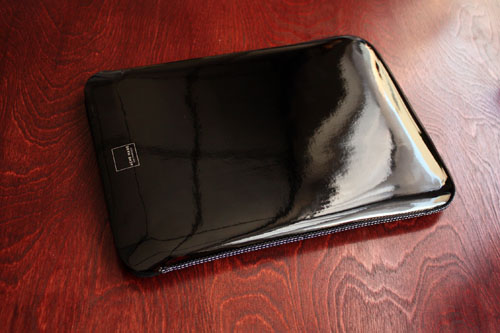 Acme Made has yet to announce iPad 2 accessories, but considering how tightly the Skinny Sleeve fits the original iPad, we're confident it will fit the next generation iPad just as well. Find out more information about the Skinny Sleeve directly from Acme Made.