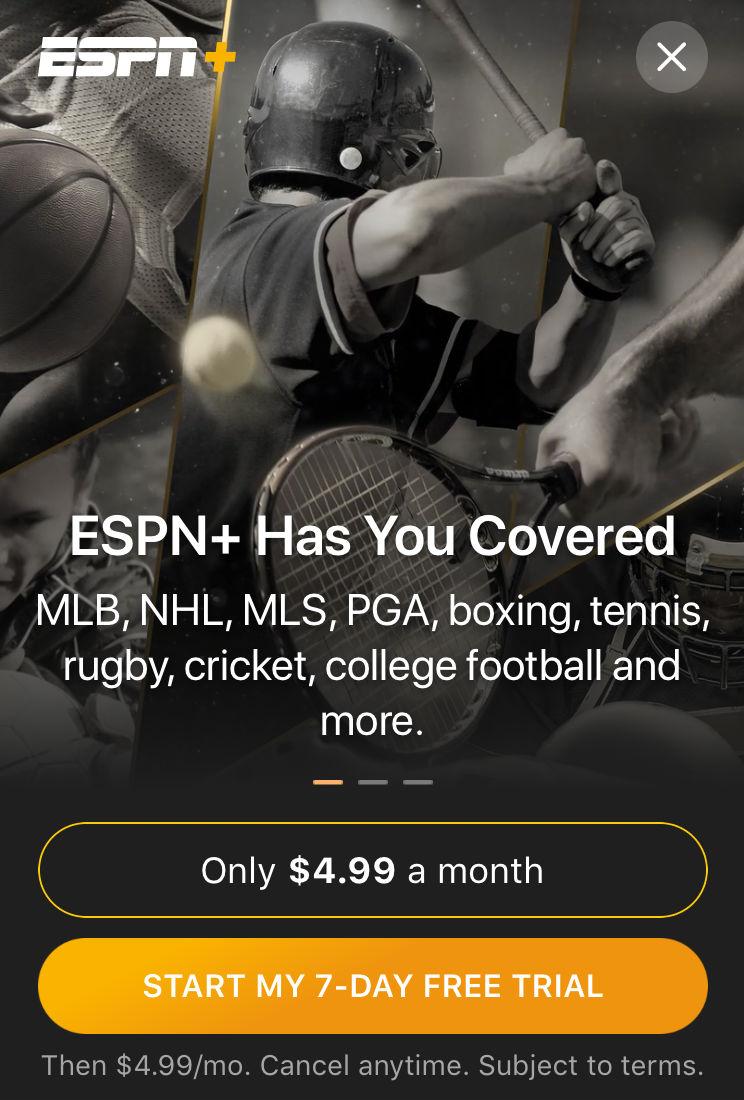 ESPN's new streaming service is now available for $4.99 a month or $49.99 annually. It includes a selection of live games from the MLB. MLS and NHL, select PGA Tour golf, top rank boxing, tennis, and college sports including NCAA football, basketball, lacrosse, softball and more. The streaming service also includes ESPN originals such as 30 for 30, studio shows such as Kobe Detail, plus more.
ESPN+ is not available as its own individual app on mobile devices. It is included in the free, redesigned ESPN app on the Apple App Store. You can subscribe to ESPN+ one of two ways:
On your iPad point your browser (Safari, Google, etc.) to plus.espn.com. From here you can follow the steps to start your 7-day free trial.
You can also subscribe through the ESPN app. Tap the Watch tab located on the bottom menu, then tap the "Start My 7-Day Free Trial" button. Finally, use Touch ID to confirm your purchase
If you subscribe through the app your iTunes account will be charged when your 7-day free trial ends. You can cancel your subscription at any time. You must cancel 24-hours before the end of the current period or your subscription will be automatically renewed. You can disable the auto-renew option in your Apple ID Account Settings.
You can read the fine print below. Click here for ESPN+ FAQ and support.