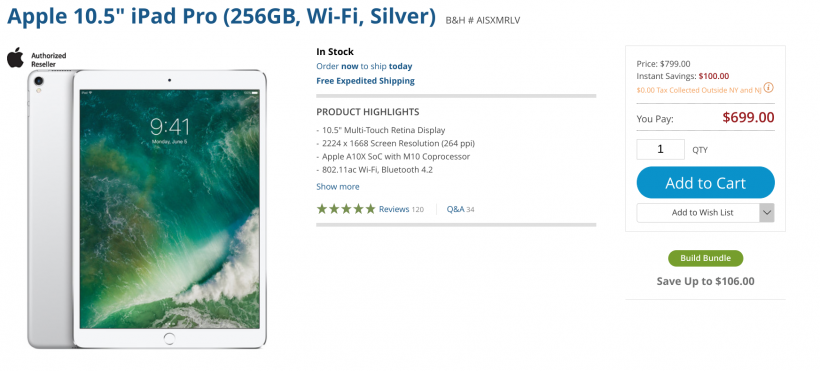 B&H is offering $100 in instant savings on the 10.5-inch 128GB iPad Pro in silver. In addition, B&H will not collect sales tax on sales shipped outside of NY/NJ making the deal up to $160 cheaper for some out of state customers. To take advantage of the deal, just head on over to bhphotovideo.com and all discounts will be added during checkout.
Shoppers can also save $20 AppleCare+ extended plans. Just select the AppleCare option in your cart during checkout.
$100-$160 in savings for a current iPad model is a typical deal you'll see at most retailers, however, there may be even more deals around the corner as retailers prepare to make room for updated inventory. According to rumors, Apple is preparing to release new iPad models with updated features like Face ID sometime in 2018.
While it is unknown when Apple plans to release its next-generation iPad models, the new lineup will most likely launch around the same time that the 10.5-inch model did.
The 10.5-inch and second-generation 12.9-inch iPad Pro models were both released on June 13, 2017.
B&H is also offering deals on other models and colors, such as $120 in savings for the 12.9-inch 128GB model in space gray.