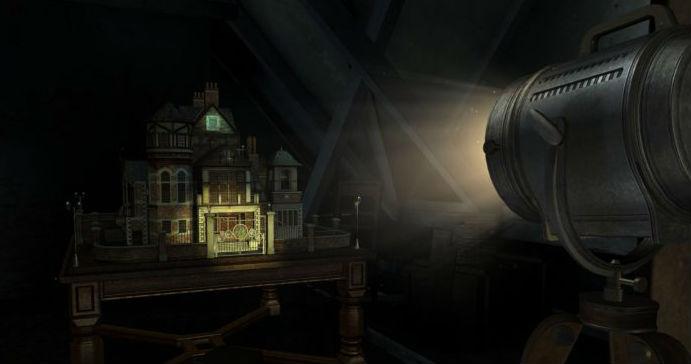 The 3D puzzle adventure, The Room: Old Sins is now available for pre-order. Old Sins is the follow-up to Apple's 2010 iPad Game of the Year.
"The sudden disappearance of an ambitious engineer and his high-society wife provokes the hunt for a precious artefact. The trail leads to the attic of their home, and the discovery of an old, peculiar dollhouse… Explore unsettling locations, follow obscure clues and manipulate bizarre contraptions as you uncover the mysteries within Waldegrave Manor."
The Room: Old Sins will launch on January 25th for $4.99.
Other new games for pre-order include PARADE!, a penguin marching rhythm game, and Four Last Things, a click-and-point adventure game.
Jam City released the first teaser trailer for Harry Potter: Hogwarts Mystery. The story-driven RPG will allow Harry Potter fans to create and control their own student as they navigate Hogwarts and the Harry Potter universe.
The game takes place during Nymphadora Tonks and Bill Weasley enrollment at Hogwarts. Players will
join the other wizards while sharpening their magical skills at the wizarding school. You'll also be able to unlock new locations, spells and other magical abilities as you progress through the game.
Harry Potter: Hogwarts Mystery will be available in Spring 2018.
Cytus II is now officially availble after being one of the first iOS titles available for pre-order. It is the fourth music rhythm game created by Rayark Games.
The game follows Æsir, a mysterious DJ who has never shown his face. Æsir's music has an irresistible charm causing people to fall madly in love with him. One day he announces he will finally reveal himself at the first mega virtual concert. Millions of people connect to the festival breaking the previous world record so they can learn his real identity.
The game features over 50 high-quality songs, over 150 maps and a "one-of-a-kind story system."
Cytus II is now available on the App Store for a $1.99.
The twinstick shooter JYDGE is now available. Build your own dystopian police officer as you eradicate crime in the never-sleeping megacity of Edenbyrg. Choose from your cybernetics, items, weapon mods, and companions to customize your own JYDGE. Blast your way through your foes with rockets, lasers, electricity, and other deadly tools of the law.
JYDGE is available for $4.99 on the App Store.
Here are the rest of this week's noteworthy App Store releases: