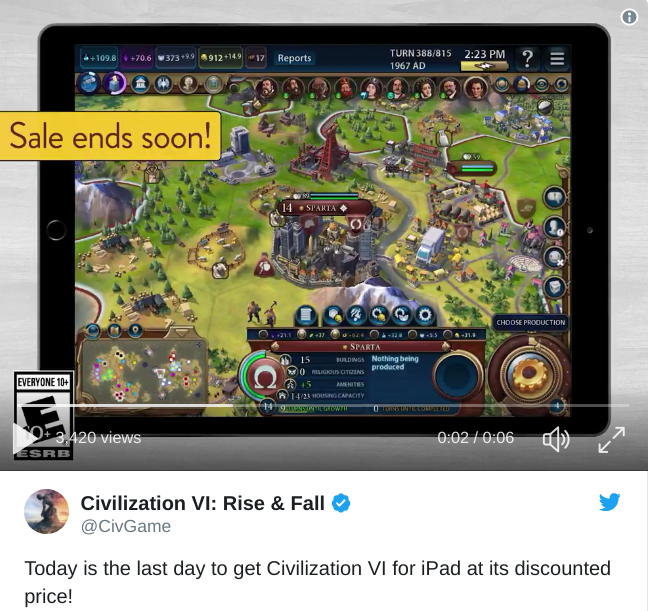 Today is the last day you can buy Sid Meier's Civilization VI for the iPad for only $30. After today the full price of the game will double to $60. Civilization VI for the iPad is a full port of the popular strategy title. It is not a mobile version, or some kind of spinoff. It is the same game you would play on the Mac or PC, and it has been receiving overwhelmingly positive reviews from both critics and players.
The iPad version has earned a 4 1/2 star rating on the App Store, and it has been called "almost as enjoyable as its PC counterpart," by IGN. While that may sound like a lukewarm review, it is actually a high compliment for an iOS title since no mobile version is going to exceed the expectations of its PC counterpart. It has also been called a "marvel" by Polygon and earned a 5 star rating from Touch Arcade.
The iPad version isn't perfect, however. It doesn't include an online multiplayer option, Retina-resolution support or expansion content, but it does come with all the other bells and whistles of the PC version. The tech trees are the deepest of any Civ Rev game, and there are more paths to victory than ever before. You can begin the game by flexing your military muscle than choose to switch gears based on the direction of the rest of the world. This allows you to win the game multiple ways, such as founding a religion or winning the space race.
You can download and play the first 60 turns of Civilization VI for free to see if its worth paying the full price, but make sure you do it before today so you can take advantage of the discounted rate.
Civilization VI is available on the Apple App Store for iPad Air 2, iPad 2017 and all iPad Pro models.