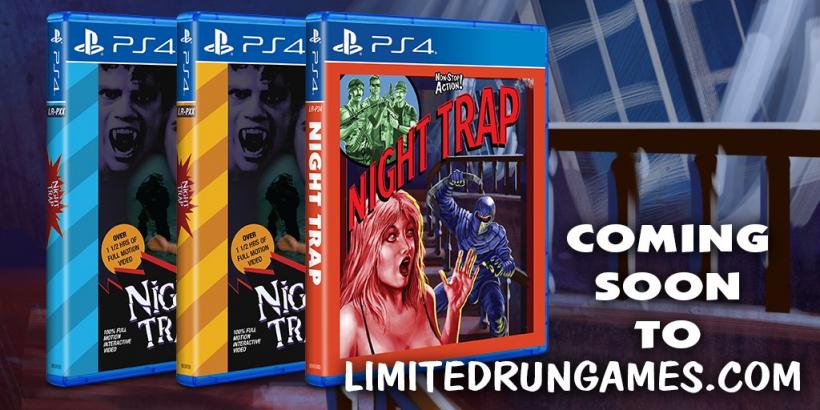 No one in their right mind should be excited for the re-release of Night Trap, but some of us can't help ourselves. Night Trap was originally released in 1992 for the SEGA CD, and it is best known for its confusing story and lackluster gameplay. Later ports of the game have also been criticized since it didn't really age very well. So why would anyone be excited for the Night Trap: 25th Anniversary Edition coming to the PlayStation 4 and PC?
Because Night Trap is a glorious B-movie starring Dana Plato. It also played an important part in video game history being one of the titles along with Mortal Kombat that was scrutinized during the United States congressional hearings on violence in video games.
For those who don't know, Night Trap is a FMV title like the iOS game Her Story. In the game, players take on the role of an internal operative for the Sega Control Attack Team (S.C.A.T.) who must investigate the disappearance of five teenage girls. The game involves mostly watching a movie about a slumber party starring Plato as an undercover S.C.A.T. agent. Night Trap was heavily criticized at the time of its release due to its simple gameplay which mostly consisted of switching cameras and hitting one button to activate traps. However, over the years Night Trap has become something of a cult title, and it is now known for its warped sense of humor, cheesy music video and difficulty.
In celebration of its 25th anniversary the game is being released to both the PS4 and PC through Limited Run, and a mobile release is not out of the question.
Eli Hodapp from Touch Arcade tweeted his disappointment that Night Trap was not getting a mobile release, and Screaming Villains, the developer of the re-release, replied that they haven't ruled it out.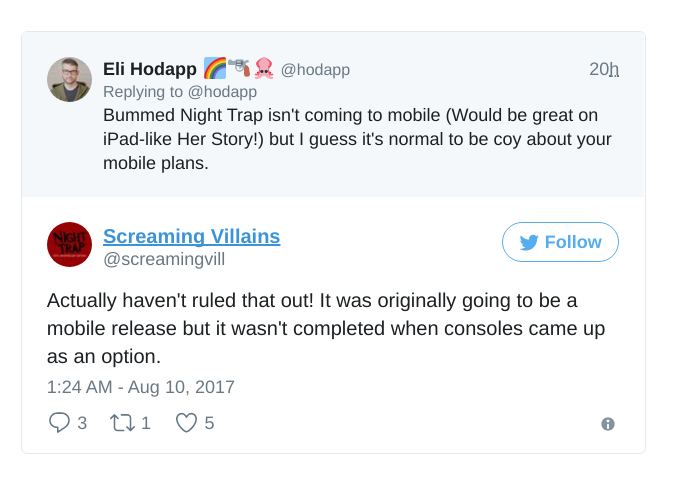 So there you have it. Night Trap may soon be available on your iPad. If you do not want to cross your fingers and wait for a possible mobile release, the game will be available starting tomorrow for $54.99. Make sure you order fast because it is limited to 5,000 copies.