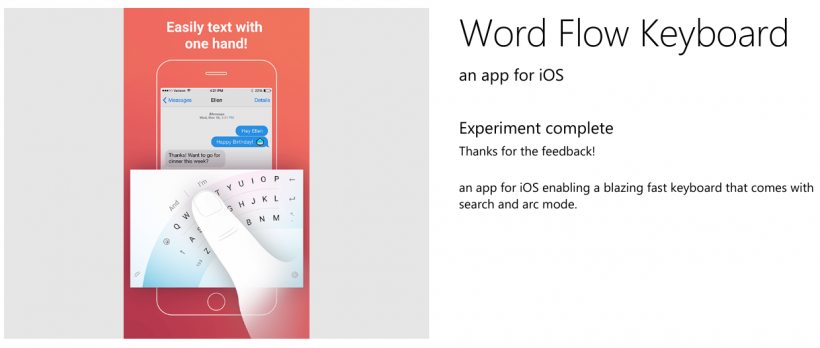 Microsoft will no longer support its Word Flow Keyboard for iOS. The keyboard was created by Microsoft's Garage research team to offer Apple users an alternative way to enter text on their iPad and iPhone. The keyboard included several interesting features, such as the ability to type with one hand and a more advanced auto-correct.
The keyboard's Microsoft product page currently reads "the Word Flow experiment is now complete." It also redirects visitors to the SwiftKey Apple App Store download page.
Microsoft acquired the company behind the SwiftKey Keyboard in 2016. They promised to keep all the SwiftKey employees to incorporate its technology into its Microsoft products. SwiftKey on iOS is an additional keyboard option for your iPad or iPhone that promises to adapt to the way you type offering a super-accurate auto-correct."
Apple added third-party keyboard support with the release of iOS 8 in 2014. iPad and iPhone owners can now download and install different keyboards from the Apple App Store. You can enable any third-party keyboard, such as SwiftKey, in the Keyboards section of the Settings app under General.
SwiftKey is available for free on the App Store.