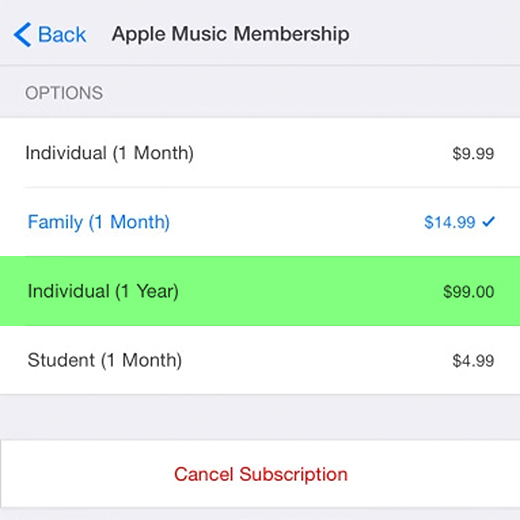 Apple offers three monthly pricing plans for its music streaming service ($9.99/month, $14.99/family plan or $4.99/student), but TechCrunch has discovered a way to pay $99 for a year. Switching your account to an annual subscription will save you $20 in the long run.
To sign up for the yearly rate you need to subscribe to one of the existing tiers by opening your Music app and tapping the "Get all the music you want" banner. From here you can sign up for one of the three plans mentioned above. Once set up with your new account, navigate to Settings > Apple ID Subscriptions and choose Apple Music. You should now see an option to switch to the $99/year plan. Tap that option to switch your account.
If you already have an account just follow the steps above to switch your plan to the yearly rate.
A normal year subscription to Apple Music normally costs $120. The $99 plan doesn't offer huge savings, but it's worth switching if you enjoy Apple's streaming service and plan to keep it.
The first 3-months of Apple Music is also free for new subscribers.