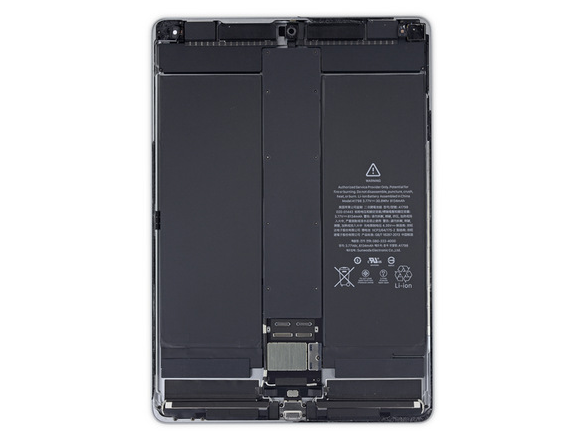 iFixit has published their teardown of the newly released 10.5-inch iPad Pro giving it a Repairability Score of 2 out of 10 (easiest to repair = 10). They also confirmed that the 10-inch model is powered by 4GB RAM (2 Mircron 2GB LPDDR4 chips). This puts the 10.5-inch model on par with the original 12.9-inch iPad Pro.
The 10.5-inch model is slightly bigger than the 9.7-inch model, but at 0.24-inches it is equally as thin. The reduced size of the bezels is what makes the 10-inch model unique. This gives it the same feel as an original iPad while delivering more display. Other design changes include the microphone-hole being migrated from "beside the rear-facing camera to the selfie camera zone," according to iFixit.
iFixit notes that the display doesn't look like anything new to the naked eye, but it needs four connecting cables to manage its "blisteringly fast" refresh rate of 120 Hz.
Other parts include an Apple A10X Fusion chip with 64-bit architecture and embedded M10 coprocessor, Flash memory supplied by Toshiba and the same NXP 67V04 NFC controller found in the iPad 5, iPhone 7, and Apple Watch Series 2. The 10.5-inch model is also equipped with a 30.8 Wh battery, which is slightly smaller than the 12.9-inch model (38.8 Wh) but an upgrade from the 9.7-inch iPad Pro (27.91 Wh).
You can follow the step-by-step teardown of the 10.5-inch iPad with pictures at ifixit.com.