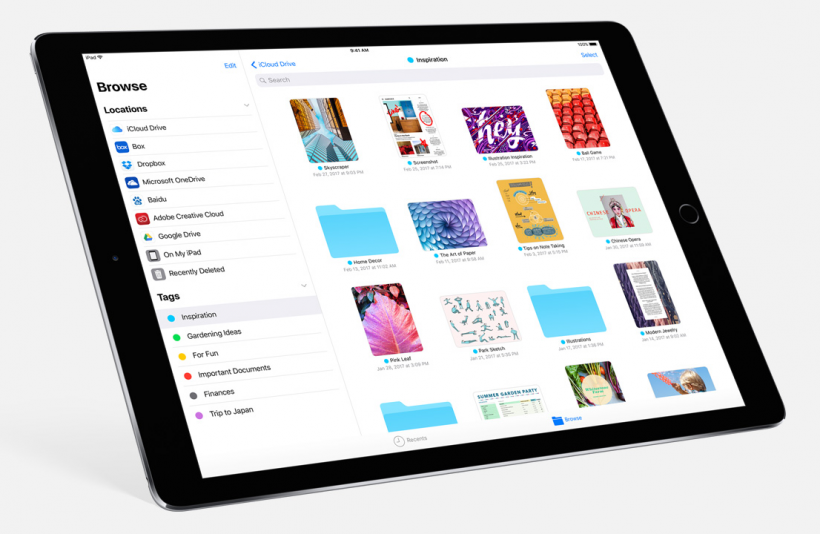 After being relatively ignored for the last couple years, Apple has finally shown the iPad some love in iOS 11. The company on Monday previewed the new OS at WWDC in San Jose, California alongside macOS High Sierra and other products. The official tagline for iOS 11 reads: "A giant step for iPhone. A monumental leap for iPad." Apple promises that iOS 11 will make your "iPad experience even more powerful and personal." Here's how:
Folders
The Folders app offers an easier and cleaner way to browse files on your iPad. The new app allows you to search and browse files stored on your tablet, in apps, on other iOS devices and iCloud Drive. It also supports tags and third-party storage providers like Google Drive.
Dock
You can swipe from anywhere to access your Dock which you can now customize with your own favorite apps. This allows you to switch apps quickly while working or performing other tasks. The Dock also "intelligently" suggests apps and it displays the last apps you opened on your iPhone or Mac.
Drag and Drop
You can drag and drop text, photos, and files from one app to another.
Better Multitasking
Apple has improved the multitasking abilities in iOS 11. You can now open a second app from the Dock and use Slide Over as well as Split View to switch between them. You can also quickly return to your favorite apps using the redesigned App Switcher.
Apple Pencil
iOS 11 also improves the Apple Pencil on the iPad Pro. You can now mark up a PDF or screenshot "faster and more easily," according to Apple. You can also access the Notes app by tapping your Pencil on the Lock screen, and text will automatically move aside when you add a drawing or image.
Other iOS 11 Features
Siri will get a "more human voice" in iOS 11, and Maps will have new cities, better navigation, speed limits, and lane guidance. Control Center is also one page, and Messages are headed to iCloud so you can delete them across devices.
iOS 11 will be available this fall.