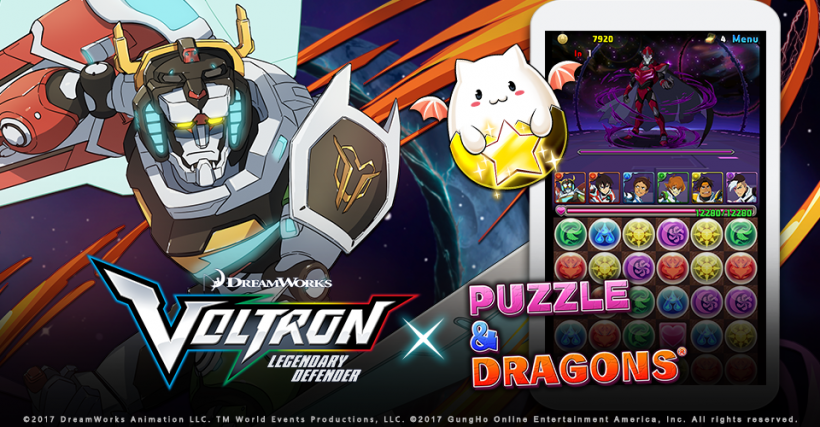 Dreamworks has teamed up with GungHo Online Entertainment America to bring Voltron to the popular RPG Puzzle & Dragons. Beginning now and ending on May 7, the game will include an all-new Voltron Legendary Defender dungeon where players can take on the Galra fleet, as well as the dungeon boss, Emperor Zarkon. The new dungeon also includes three exclusive skill up materials to use for ranking up characters, including Shiro's Helmet, Balmeran Crystal, and Voltron's Sword.
In addition to the new levels, players ranked over 50 will receive a chance to unlock one of the new Voltron characters from the Egg Machine, such as Princess Allura. Other characters include Voltron, Shiro, Keith, Lance, Pidge, Hunk and Coran.
Puzzle & Dragons is a match-3 RPG where players can assemble a team of monsters to explore dungeons and battle enemies. The game includes over 2000 monsters to collect and train. Players can also evolve their monsters and compete with friends in multiplayer dungeons.
Puzzle & Dragons is available for free on the Apple App Store. It includes IAPs and supports all devices running iOS 6.0 or later.
All episodes of Voltron: Legendary Defender are now streaming on Netflix. You can learn more about the show by visiting the official Facebook or website.