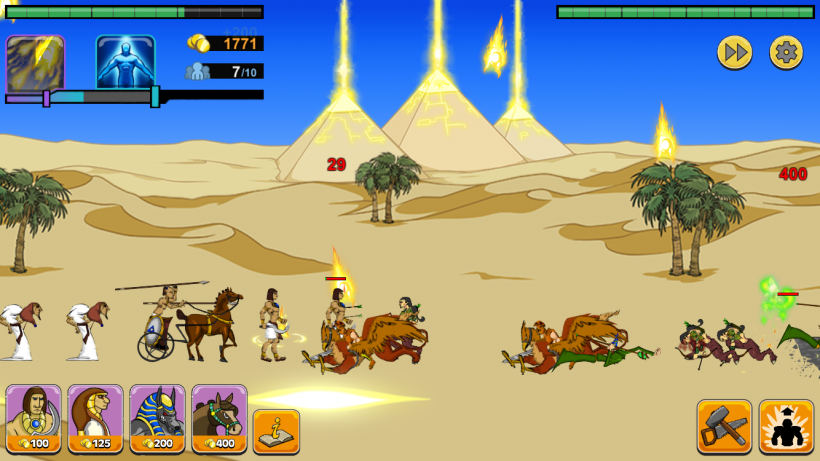 The popular desktop game Age Of War 2 is now available for iOS devices. Age of War is a side-scrolling, tower defense title where you progress through different times in history. The sequel includes 2 additional ages than the original, and it the first title in the series to include female characters. In the game players must defend their home base by training different characters based on the current age.
Age of War 2 features seven different stages of war including new Spartan and Egyptian ages, and 29 unit types from cavemen to cyborgs. The iOS version also includes 4 difficulty modes with plenty of achievements and challenges. Age of War 2 is available for free now on the Apple App Store.
Minecraft announced this week that it will begin testing Minecraft Coins in mid-April. The new in-game currency will allow players to purchase adventure maps, texture packs, minigames and more from professional "crafters" in the upcoming Minecraft Marketplace planned for the spring. Minecraft players can learn more about Minecraft Coins and the new Marketplace by visiting the newly launched minisite.
The popular sketching app Paper has been updated with a new Copy & Paste feature for subscribers. Paper is available for free on the App Store, but users can support the app by subscribing to its Patron service for $5.99. The app provides both iPhone and iPad users with easy note taking capabilities, the ability to edit and draw on photos, or the ability create original sketches using its wide variety of free drawing tools.
Pokémon GO is holding a special Eggstravaganza until April 20th For the next seven days players can earn more Candy for every Egg they hatch and level up even faster with double XP. Lucky Eggs will also be 50% off in shops giving trainers the potential to earn up to 4 times as much XP throughout the event. You can learn more about the Eggstravaganza here.
Here are the rest of this week's most noteworthy games released to the Apple App Store: