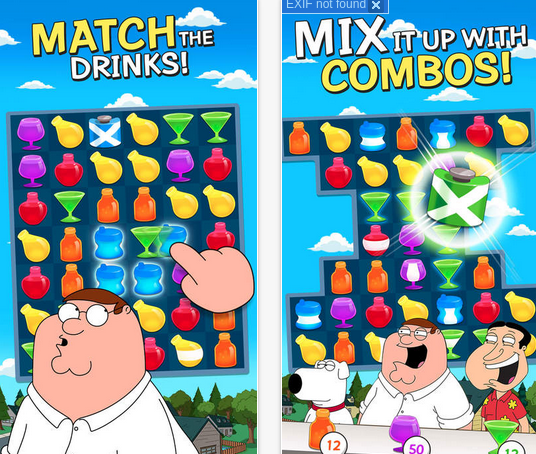 Jam City has opened pre-registration for Family Guy- Another Freakin' Mobile Game. iOS, Amazon and Facebook users can sign up here, and Google Play users can sign up here. We already know that Another Freakin' Mobile Game really means "another freakin' match-3 title," since the game has already soft launched in the Philippines. The game's official App Store description reads:
"Hop on Peter's booze truck (yes, you heard that right… booze truck), and join your favorite Family Guy characters on their debaucherous journey through Quahog! Cruise from level to level matching drinks to keep Peter and Brian hammered. Help your favorite characters keep their buzz!"
The game promises 4 game modes with lots of Family Guy shenanigans such as helping Quagmire practice safe sex, beating up chickens and other references to the television show. It's hard to tell if the game is any good since there is only one review complaining about bugs, which is a given since it is a soft launch. You can watch the pre-registration trailer below and check out the Philippine App Store page for more information.
Family Guy- Another Freakin' Mobile Game will be free when it is launched to the US App Store. No official release date has been announced at this time.