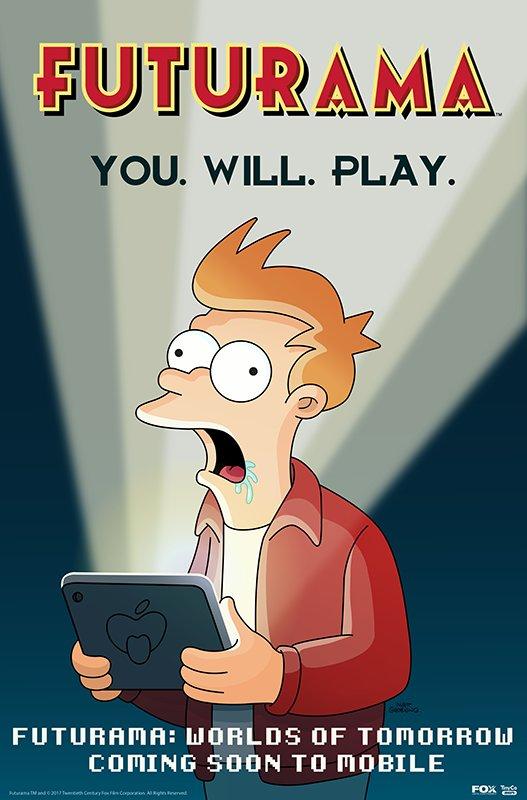 TinyCo has created a Twitter account for a new Futurama game coming to mobile devices. The first tweet from the newly created account notes that Futurama: Worlds of Tomorrow is "coming soon," and it directs fans to the website youwillplayfuturama.com. The website allows fans to sign up for email notifications about the game or pre-register on Google Play.
Developer Jam City will also be hosting a live broadcast on Facebook at 2 p.m. ET, to talk about the upcoming game with USA Today.
This is the second Futurama title released to mobile devices since the television show's revival on Comedy Central ended in 2013. Futurama: Game of Drones was launched on the Apple App Store and Google Play in 2015. The Planet Express gang is also well represented in Kongregate's card battling title, Animation Throwdown: The Quest for Cards
TinyCo and Jam City haven't revealed much about the new title, except that "the stars of the show, Billy West, Katey Sagal and John DiMaggio are back to lend their voices to their characters." The show's original creator Matt Groening, the executive producer David X. Cohen, and the original animation studio are also involved in the creation of the game.
TinyCo and Jam City are known for creating other popular mobile titles, such as the Family Guy: The Quest for Stuff and Marvel Avengers Academy. It is unknown if Futurama: Worlds of Tomorrow will be another free to play building title, but we should find out later today.