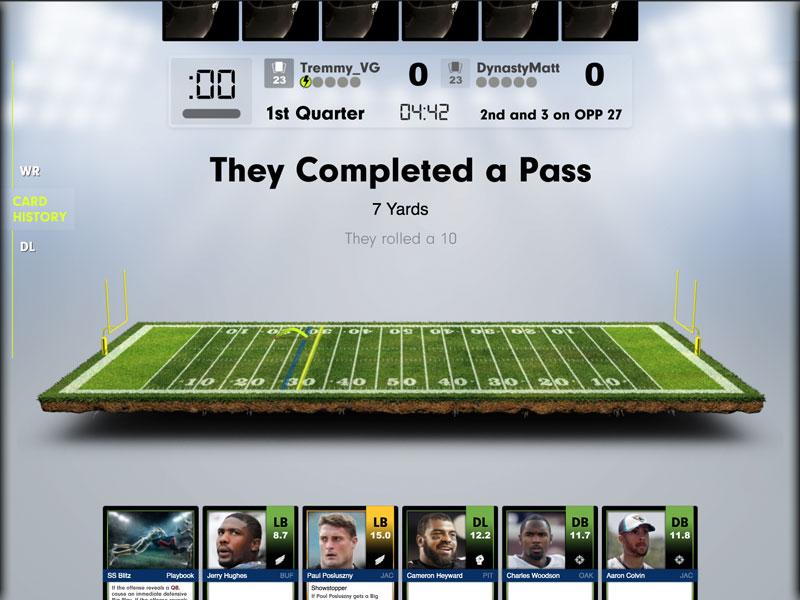 Collectible card games have found a second life on mobile devices. The success of titles like Hearthstone: Heroes of Warcraft and Card Wars - Adventure Time have caused almost everything to be turned into a CCG. The WWE did it with 2K games for WWE SuperCard and Fox has teamed up with Kongregate to release Animation Throwdown, based on all their popular television shows not called The Simpsons.
The success of these titles on mobile devices is why FlowPlay has decided to combined fantasy football with the CCG genre. Dynasty Fantasy Football is currently an online only fantasy football collectible card game coming soon to iOS and Android.
The game combines the drafting strategy of fantasy football with video game elements from CCGs. Players can draft a team from a set of over 350 cards to build decks of unstoppable offenses and unbeatable defenses. The game is played head-to-head and is designed to simulate an actual football match with special teams, big plays and more. Player cards are currently rated based on 2015 real-world stats, and some include special abilities to help give you an edge over your competition.
The game is played a bit like Rock, Paper Scissors, where each down is decided by who plays the best card. Players can also use things such as Fantasy Value (FV) to perform "Big Plays" and gain Momentum, which allows you to play Power cards.
Dynasty Fantasy Football is available to play now online dynastyfootball.com and it is listed as "coming soon" for mobile devices.