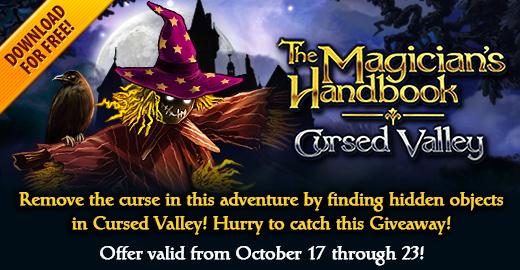 They may not be considered hardcore gamers, or be widely discussed on gaming forums, but there is a dedicated bunch of hidden object enthusiast out there. Hidden object games are so popular on iOS, that developers like Big Fish Games and G5 Entertainment release 1 to 2 titles a week. Hidden object games also tend to be either fantasy or spooky, which makes them great Halloween titles.
Starting today, G5 Entertainment's popular The Magician's Handbook: Cursed Valley is free. This is the full version with all 13 enchanted levels and unlimited replay. The game also includes 2 game modes (casual and apprentice), 12 mini-games and secret items to unlock.
Cursed Valley is the perfect Halloween treat for fans of hidden object games. The goal is to remove the evil curse by finding hidden objects in the dark and mysterious Cursed Valley. Use the fabled Magician's Handbook as you search hand-painted backgrounds for hidden enchanted objects, and whisper special incantations to slowly reveal the pages of the sacred book. Help lift the curse of the secret valley to discover its hidden name.
The Magician's Handbook: Cursed Valley is available for free on all platforms until October 23rd. You can download it now from the App Store for your iPad or iPhone. It supports all devices running iOS 8.0 or later.