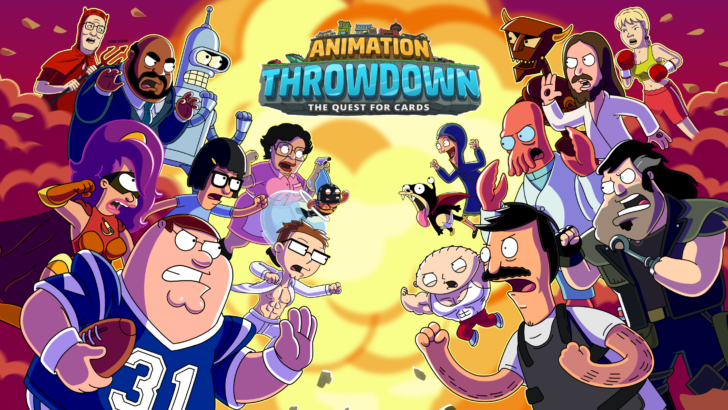 Kongregate's new card battling title brings five of Fox's popular animated shows together in one game for the fist time. iPhone and iPad users can now play as their favorite characters from Family Guy, Bob's Burgers, American Dad, Futurama and King if the Hill. The game includes hundreds of cards featuring characters such as Stewie, Bender and more. Each character also has different versions of themselves with unique abilities and stats.
Animation Throwdown: The Quest for Cards is a free-to-play, CCG with 25 chapters of single player play and an online battle mode. Players can unlock, collect, upgrade and fuse cards to create powerful decks to crush their opponents. The game is played like any other CCG available on the App Store. You begin the game by picking a character from one of the five shows. You can then complete quests in single player mode by taking on other characters in turn based card battles. Your deck is made up of character and item cards that you can play each turn. Each character can attack and defend, and you can use items to enhance your character cards. For example, combining Steve with an Alcohol card gives you Hungover Steve. Combining cards gives your cards new abilities or increases their attack and defend stats.
Throughout the game you earn new cards, coins and other items by winning and completing quests. You can then use your money or new items to purchase new cards and upgrade your existing cards. You can also use the Research lab to combine cards to create newer rare cards for your deck.
The game includes premium currency in the form of gems, timers for researching and pricey IAPs that go all the way up to $100 in real world money. You can also earn better Loot Drops by watching video advertisements.
Animation Throwdown: The Quest for Cards is available now for free on the Apple App Store. It supports all devices running iOS 7.1 or later.
Unfortunately, Fox doesn't like mixing the Simpsons with its other properties. This means there are no characters from Springfield in the game, however, it is jammed packed with tons of references from all the other shows that you probably won't miss Bart and gang.