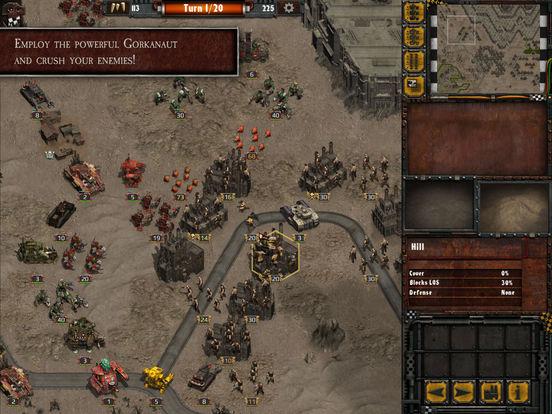 Strategy fans who are too impatient to wait until September for Avadon 3: The Warborn and Rome: Total War, can get their fix this month by downloading Slitherine's Warhammer 40,000: Armageddon - Da Orks. This is Slitherine's second Warhammer title and follow-up to Armageddon from 2014. Slitherine is known for developing and publishing premium strategy titles for iOS, such as Battle Academy and Hell: Fight for Gilrand.
In Da Orks, players are in control of the Ork army instead of the Imperial Forces. The game begins in the year 941.M41 when a Space Hulk carrying an Ork invasion force appears in the Armageddon star system. Players must lead their Ork army into battle against the Imperial forces of the Armageddon Steel Legion and Space Marines, and survive hostile conditions as they set out to bring death and destruction upon the unsuspecting citizens of Armageddon.
Warhammer 40,000: Armageddon - Da Orks is a hex-based, turn-based strategy game with a large campaign divided into 3 acts and 18 separate scenarios. The game promises a detailed combat model with 20 different units stats, custom terrain, cover and morale effects. Other features include Slitherine's award-winning PBEM2++ system, 400 plus unit types divided into 7 classes, 200 plus weapons and 10 hand crafted multiplayer maps.
Warhammer 40,000: Armageddon - Da Orks is available now on the App Store for $14.99. It supports all iPad models running iOS 7.0 or later.