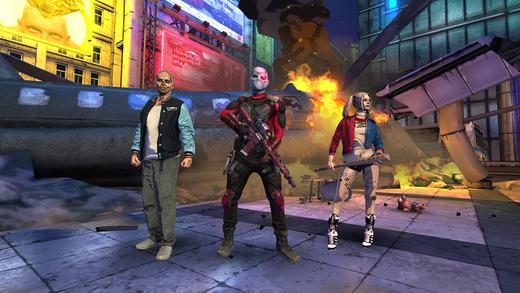 The promotional game for a summer blockbuster normally doesn't receive better reviews than the actual movie, but that's exactly what happened with Suicide Squad. Warner Bros. mobile tie-in has received mostly positive reviews from both critics and gamers, alike, earning itself a 5-star rating on the Apple App Store. Normally tie-in games are released before the official movie then are quickly forgotten about by both fans and the developers, but Suicide Squad: Special Ops has been updated to version 1.1.1. The update brings a new Extreme Mode, an option to remove aim assist and other tweaks and improvements.
Touch Arcade describes Special Ops as a "wave-based first-person arena shooter" that's "shockingly good." Players can play as either Harley Quinn, Deadshot or Diablo as they bash and shoot their way through hordes of enemies. The best part of the game is it is free to play and it has no IAPs or ads. It also includes leaderboard and ReplayKit support.
The update comes after the movie took a beating by critics over the weekend. Suicide Squad earned a dismal 26 percent rating on Rotten Tomatoes. However, the film still managed to break the August opening weekend record by more than $40 million, according to Box Office Mojo. The movie also raked in $267.1 million on the global market, slightly edging out Deadpool's opening worldwide tally of $264.7 million. Suicide Squad did manage to earn a B+ on Cinemascore and fans gave it a 72 percent approval rating on Rotten Tomatoes.
Suicide Squad: Special Ops is available for free on the Apple App Store. It supports all devices running iOS 7.0 or later.
Suicide Squad the movie is now playing in theaters worldwide.