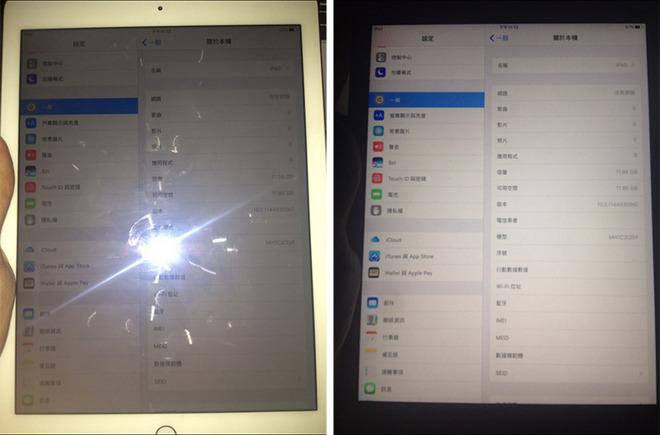 While most of the world has their sights set on the iPhone 7, AppleInsider has published the first images of an alleged iPad Pro 2. The photos were sent by a "worker in Apple's Asian supply chain," according to the report. The images reveal the model number MH1C2CD/F, which has not been assigned to any other known iPad models. Model numbers can also easily be faked, and AppleInsider has not confirmed the authenticity of the leaked images.
If the images are indeed real, then it is safe to assume this is an early prototype of the next iPad Pro model. AppleInsider also notes that the "device's screen shows a 12GB capacity, which is just enough for installing an OS and apps for internal testing and debugging." This would also suggest that iPad featured in the images is a pre-production device.
The second-generation 12.9-inch tablet is set to go into production in late September, according to the leaker, but there hasn't been much buzz about the next-generation iPad Pro or iPad mini. Apple drastically altered its hardware cycle with the launch of the original iPad Pro in 2015 and iPhone SE in early 2016. Previous rumors have suggested that the iPhone-maker was planning to skip a cycle for its iPad lineup due to slumping tablet sales. It is even unknown if Apple plans to continue its 7.9-inch iPad lineup now that iPhone Plus models have been cannibalizing sales of the smaller tablet.
Specs for the next-generation iPad Pro are also unknown at this time, but AppleInsider assumes it will feature a "faster processor, likely dubbed A10X, an enhanced camera and True Tone display technology borrowed from the 9.7-inch iPad Pro."
If the leaker is correct and production of the new iPad Pro model does kick off in late September, then Apple may be planning a second iPad event in October, after the launch of the iPhone 7.