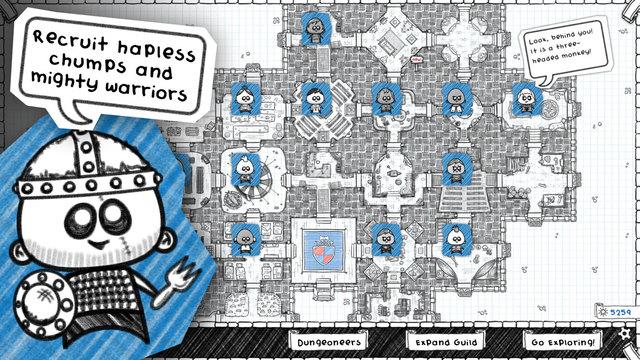 It's no Pokémon Go, but if you want to collect monsters from your couch instead of going outside, Terra Monsters 3 is now available on the App Store. Terra Monsters includes over a hundred 3D monsters to collect, 3v3 3D battles and over 24 hours of gameplay. Terra Monsters 3 is $1.99 and it supports all devices running iOS 9.1 or later.
The new dungeon crawler that we highlighted last week is now available for all iOS devices. Guild of Dungeoneering was originally thought to be an iPad-only title, but it turned out to be a universal app. In Guild of Dungeoneering you become the ultimate Dungeon Master by building a dungeon around your hero and coaxing him or her through quests to restore your guild to its ultimate glory. The game is a turn-based RPG where players utilize cards to construct a dungeon full of monsters, traps and treasure. Guild of Dungeoneering is available on the App Store for $3.99.
Square Enix this week released a teaser website for a new RPG titled, Cosmos Rings. Little is known about the game, but it is being created by some of the same talent behind the Chaos Rings franchise. The bad news is that's an Apple Watch title. The game is listed as "coming soon."
Rule with an Iron Fish was updated with universal iPad support this week. The "pirate fishing RPG" has been earning decent reviews from critics and gamers, alike. It is available on the App Store for $2.99.
Here are this week's noteworthy universal games released to the Apple App Store through 07/17/16 to 07/22/16.