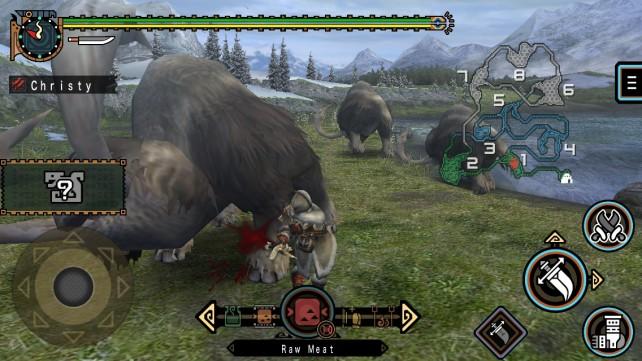 Apple has a premium game problem. Too many titles, such as Bioshock, have been pulled from the App Store due to incompatibility issues. It's hard enough to convince people to spend several dollars on a mobile game, and stories of broken unsupported titles plaguing the App Store does not make the task any easier. If Apple wants its hardware to be taken seriously as a gaming platform it needs to do something about games being pulled or not being supported by developers shorty after a release.
Monster Hunter Freedom Unite is another title that was pulled from the App Store after it broke thanks to iOS 9. Capcom originally seemed disinterested in fixing the problem, but after a positive response to the release of Monster Hunter Explore in Japan, the publisher announced plans to fix Freedom Unite. The release was announced for Sprint 2016, then pushed back to July 10th, but it has finally arrived a few days early and it is now available on the US App Store.
The official App Store description immediately mentions users should "check the compatibility" section before installing the game. Monster Hunter Freedom Unite is compatible up to iOS 9.3.2 on the following devices:
iPhone 4s, iPhone 5, iPhone 5c, iPhone 5s, iPhone 6, iPhone 6 Plus, iPhone 6s, iPhone 6s Plus, iPhone SE
iPod Touch (5th gen 16GB/32GB/64GB with back camera), iPod Touch (6th gen)
iPad (3rd gen), iPad (4th gen), iPad Air, iPad Air 2
iPad mini, iPad mini 2, iPad mini 3, iPad mini 4
9.7-inch iPad Pro, 12.9-inch iPad Pro
If you do not have one of these devices running iOS 9.3.2 or earlier (to OS 6.0) then the game is not guaranteed to work properly.
Monster Hunter Freedom Unite is a premium title at $14.99. It is a port of the classic PSP title with redesigned graphics and simple touch controls. The game features a 4 player co-op mode over Wi-Fi, MFi controller support and tons of replayable quests to keep you busy.