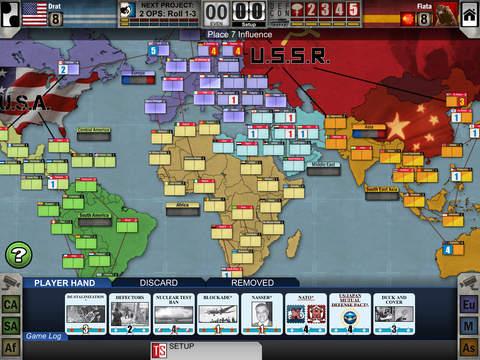 Here's a game we missed during last week's new App Store releases, the popular strategy board game, Twilight Struggle is now available for the iPad. Twilight Struggle snuck its way onto the App Store after being funded on Kickstarter and releasing to Steam in April. The game has earned a Very Positive rating on Steam, but has only managed a 3 star rating on the App Store. This could be due to a few bugs that have already been fixed in early updates, so you may want to read through some customer reviews before dropping $8 on the iPad version.
Twilight Struggle is a card driven game that puts the player at the center of the Cold War between the U.S. and the U.S.S.R. The goal of the game is to gain more influence over the world than your opponent without triggering a nuclear war. The original game was created by Ananda Gupta and Jason Matthews, and it has been ported to iOS by Playdek -- the creators of Summoner Wars.
The game consists of event cards that are based on real world events, such as the Cuban Missile Crisis and the Vietnam War. Players can play these cards to influence different regions as they attempt to gain allies and win the Cold War. The iOS version includes an AI opponent for one player games, a pass and play multiplayer option so two people can play on the same device, and an online multiplayer option. The game also includes online stats, a player rating system and customized online game clock.
Twilight Struggle is available now for $7.99 on the Apple App Store. It supports all iPad models running iOS 7.0 or later. The last update on the official Kickstarter page notes it will also be released for the iPhone.