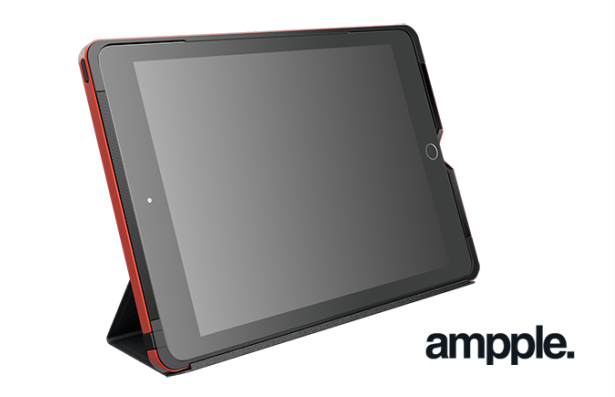 If you own an iPad Air and wish it had stereo speakers like the iPad Pro, Ampple has a solution for you. Ampple is a new iPad case currently being funded on Indiegogo. The creators of Ampple claim that their product will not only increase the volume of your iPad, but it will deliver a richer sound with a deep bass. Or as they put it, Ampple will give your iPad "HD sound to match the HD screen," even though there is no such thing as "HD sound."
Unlike the iPhone, that is easy to slap in a Bluetooth speaker dock or better used with headphones, the iPad could definitely benefit from improved sound. The iPad is a great way to watch TV or instructional videos while propped up so you can easily view its display. Wearing headphones is problematic when working out or moving around while doing physical activities, such a cooking. Ampple promises to be loud enough to cut through loud kitchen sounds, and it can be heard up to 60 feet away. The case also features a battery with up to 10 hours of music playback time.
Ampple is a Bluetooth enabled case that weighs a little under a 1lb. The Indiegogo page does not mention if the case offers any drop protection, but it does note that Ampple is not waterproof. Ampple will be available in 4 colors, including an exclusive Indiegogo pink hue.
You can nab an Ampple case for as part of the Early Bird perk for $95. The Ampple case will be available for the iPad Air 2, iPad mini 4 and the 9.7-inch iPad Pro.
The Ampple Indiegogo campaign has reached 35% of its $50,000 goal at the time of this post.