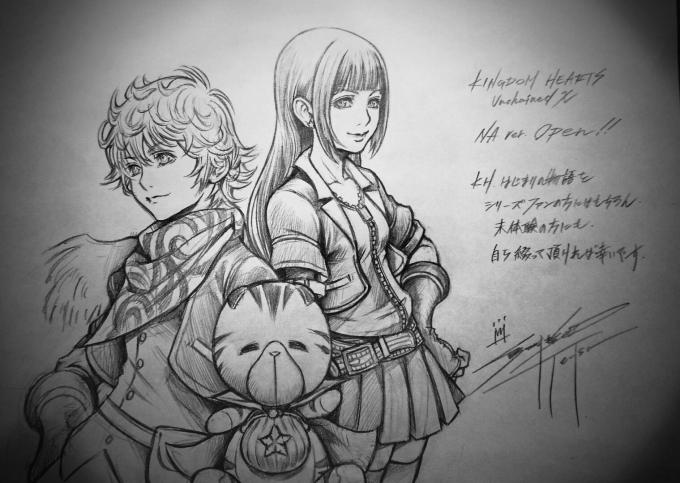 It was a big week for Disney as Kingdom Hearts Unchained χ from Square Enix, Disney Crossy Road and LEGO Star Wars Force Builder were all released to the App Store the same day as the trailer for Rogue One was launched online. Kingdom Hearts Unchained χ is probably the most anticipated mobile game to hit the App Store this week. The game takes place at the "beginning" of the Kingdom Hearts series in the world of fairies, and follows the Keyblade wielders as they battle against the Heartless.
Unchained χ is also linked to the upcoming Kingdom Hearts HD 2.8 Final Chapter Prologue, which is being released later this year for the PlayStation 4. The Final Chapter is a remastered version of Kingdom Hearts 3D.
In Unchained χ players can unlock and evolve hundreds of character medals with powers from past Final Fantasy characters, and customize their characters in outfits from the expanded Disney universe, Final Fantasy and the Kingdom Hearts series. It also features a swipe battle system, Disney-inspired worlds and more. Kingdom Hearts Unchained χ is available for free on the App Store.
If you have ever played the original Crossy Road the there is no explanation needed for Disney Crossy Road. It's basically Frogger with over 100 Disney and Pixar characters to unlock. Disney Crossy Road is available on the App Store for free.
Force Builder is the latest Star Wars title from LEGO. In Force Builder players can construct their own Star Wars-inspired ships and fly them. LEGO Star Wars Force Builder is also available for free on the App Store.
Here are more noteworthy App Store releases for the week of 04/03/16 to 04/09/16.
Hidden Object Games
Sea of Lies: Burning Coast HD (Free) A strange plague has been sweeping through coastal towns and you have traveled to Port Talbot to help find a cure. Upon your arrival, the town is evacuated to the neighboring Wellport and you find yourself trapped in a madman's plan!