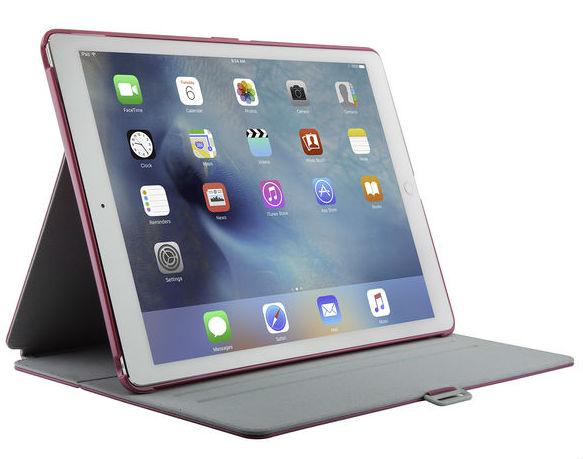 If you have upgraded to a new 9.7-inch iPad Pro then it may be time to invest in a new case. Luckily for you, accessory maker Speck Products has launched several new useful cases for Apple's latest tablet.
The StyleFolio Pencil is protective case with built-in Apple Pencil storage system and inkwell. The case allows you to stash and protect your Apple Pencil when you're on the move, and the inkwell provides an easy way to stand and quickly access your stylus when using your iPad. The $100 Apple Pencil is not cheap, so you do not want to risk forgetting it behind or causing damage while transporting it. The StyleFolio Pencil case also provides protection for your iPad, and it features a built-in stand for using your iPad in multiple angles.
The StyleFolio Pencil will begin shipping in May for $60. You can learn more about the StyleFolio Pencil case at SpeckProducts.com.
If you're in the market for a more affordable, basic case for just your iPad alone, Speck also offers a protective hard shell StyleFolio with vegan leather cover for $40. This protective case is available in several colorful or basic options. It also includes a built-in stand, and a soft inner lining to keep your iPad scratch free. The StyleFolio is available now through SpeckProducts.com. The StyleFolio is backward compatible with the iPad Air and iPad Air 2.
Last but not least is the StylioFolio Luxury Edition for the 9.7-inch iPad Pro. The Luxury Edition features premium finishes in Rose Gold or Gunmetal. It will begin shipping later this month for $45.