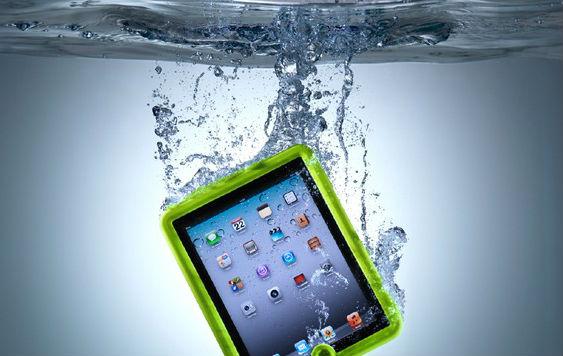 There's been quite a few dodgy iPad Air 3 rumors circulating the internet the last few days. A lot of Apple fans are still banking on Apple releasing its next-generation 12-inch tablet sometime early this year. This wishful thinking is mostly based on a research note sent out by KGI analyst Ming-Chi Kuo in December 2015. This week more rumors have surfaced claiming that the iPad Air 3 will not only launch in March, but it will also be the first iOS product to feature an IP rating for water resistance.
Apple typically only rolls out new features to its flagship iPhone models before introducing them to other products, like it did with Touch ID. I'm not sure if being water resistant is considered a major feature, but it hardly seems like a selling point that would help slumping iPad sales. While many Apple fans have long requested waterproof iOS products it is hardly a deal breaker that they are not. The only Apple product to feature an IP rating for water resistance is the Apple Watch, which makes sense since it is a wearable device.
Apple introducing multiple user profiles on the iPad with the release of iOS 10 is a lot sexier than your tablet being water safe, and a better feature to offer on the iPad Air 3 to help boost sales. This is also a feature that would only make sense on the iPad, and not the iPhone. However, a water resistant iPhone 7 being released later this year, followed by a water resistant iPad Air 3 release would fit better with Apple's launch history.
It is unknown if and when Apple plans to refresh its iPad Air lineup, but it is more likely than not that we will see an iPad Air 3 sometime this year. Previous supply chain reports have claimed that "Apple has turned conservative about its tablet product line" and is in no rush to launch a new 12-inch iPad, but those rumors surfaced before the iPad Pro and iPad mini 4 launch. Apple may be waiting to see how the latest iPad models sell before moving ahead with a new iPad Air launch.