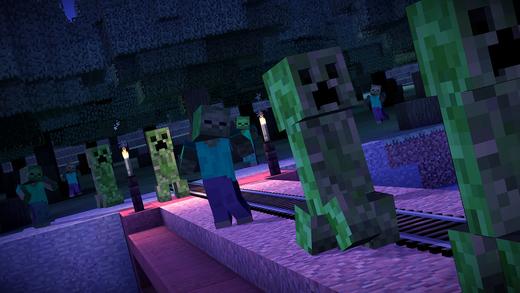 A bunch of mobile games have launched early on the Apple App Store today, and one of them is the highly anticipated Minecraft: Story Mode. The newest Minecraft game was published by Telltale -- the developer behind the popular episodic titles The Walking Dead and Tales from the Borderlands.
Minecraft: Story Mode is a lot like Telltale's other games where your decisions and actions drive the story of the game. It also includes voice work from some big names like Patton Oswalt (Agents of S.H.I.E.L.D), Paul Reubens (Pee-Wee's Playhouse), Martha Plimpton (The Goonies), and it features the same blocky graphics as the original.
The story follows a group of kids going on an adventure after a catastrophic event disrupts their dreams of taking on the champion builders at the Minecraft convention EnderCon.
So far critic reviews of the game have been lackluster, and the game hasn't been out long enough to register any App Store user reviews. The game has managed to earn a four and a half star rating from 29 ratings on the App Store at the time of this post.
The first episode of Minecraft: Story Mode "The Order of the Stone" is available for $4.99 on the App Store. It supports all devices running iOS 7.1 or later and it offers the option of buying all future chapters for $14.99. The game has is also available for the Xbox One, Xbox 360, PlayStation 4, PlayStation 3, PS Vita, Android, Mac and PC.