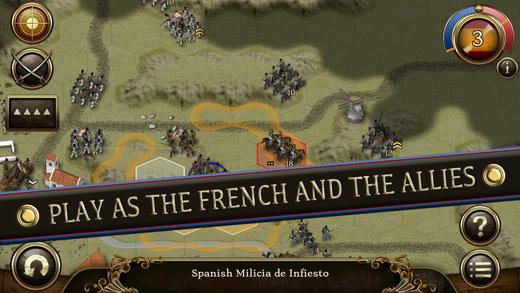 No Confederate flag here. Peninsular War Battles from HexWar Games is all about Napoleon's campaign to conquer Portugal and Spain in the 1800s. Like all HexWar strategy games, Peninsular War promises to deliver historically accurate battles and battle tactics with "accurately depicted" uniforms and flags for the time period. The game features 5 tutorial campaigns, 3 invasion campaigns and 8 assault campaigns for only $0.99. Additional campaigns can be purchased separately.
Other features include 53 different historical models representing 66 different unit types, detailed combat analysis​, map zoom, Leaderboard support and iCloud saves. Peninsular War Battles is available now on the App Store. It supports all devices running iOS 6.0 or later.
As for the Confederate flag remark, Apple is once again allowing developers to use the controversial flag in historically accurate strategy games. Andrew Mulholland of HexWar Games said in early July that Apple reinstated several of their Civil War titles after they removed the Confederate flag from any icons and App Store screenshots.
You can still download HexWar Game's Civil War: Gettysburg and other Civil War mobile title from the Apple App Store.