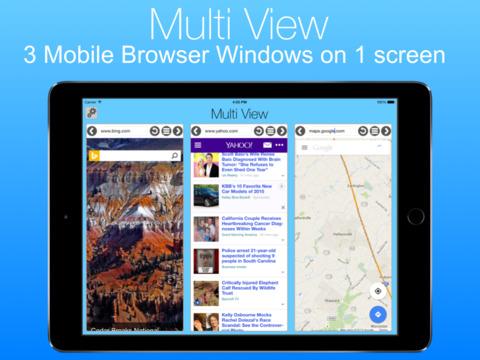 iPad owners have been waiting a long time for Apple to add a split-view multitasking option, and they will finally get their wish with the release of iOS 9. Apple announced at WWDC 2015 that iOS 9 would bring three multitasking features to the iPad when it released later this year. The new features will allow iPad users to use two apps simultaneously and even view video while using a second app.
iPad owners who are too impatient to wait for iOS 9 should check out a new app from Mobile Simplified. Multi View doesn't allow you to use multiple apps at the same time like iOS 9, but it does allow you to open three browser windows simultaneously on one screen. This means you can watch a video on YouTube, while checking Facebook and Twitter at the same time. Multi View offers an endless amount of multitasking possibilities if you use mobile websites instead of apps, and it makes copy and pasting from website to website much quicker and easier.
Multi View is currently available for $0.99. The app is normally $1.99. You can download it now from the Apple App Store. It supports all iPad models running iOS 8.2 or later.