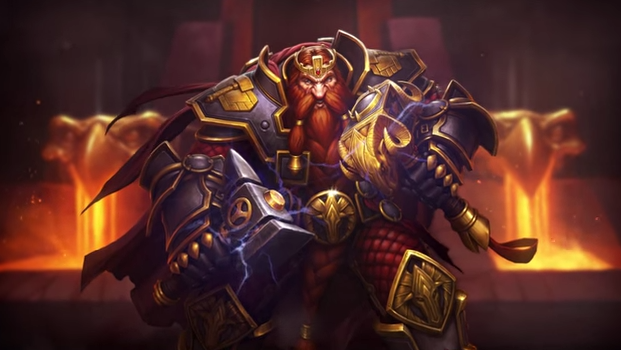 The first Hearthstone Tavern Brawl titled, Showdown at Blackrock Mountain, was released this week. Players can now compete it the brawl for free until Monday, June 21. Blizzard also updated the Hearthstone app with new heroes, card backs, features and bug fixes. The new heroes include: Warrior Hero Magni Bronzebeard, Hunter Hero Alleria Windrunner and Mage Hero Medivh.
Here are this week's noteworthy iPad releases for 06/14/15 to 06/20/15. Warhammer: Snotling Fling is Apple's free app of the week. The game will be free on the Apple App Store until 06/25/15. Don't forget to check out our App Store recap every Saturday for all the weekly releases, jailbreak tweaks, App Store news and important app updates.
Warhammer 40,000: Armageddon ($19.99)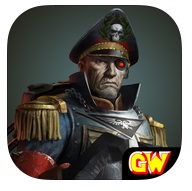 "Armageddon, a world whose name has become a byword for war and destruction on a massive scale…" -Lord Commander Solar Eugenian
"There is no peace amongst the stars... It is the 41st millennium and there is only war! We live in the Imperium of Mankind, the greatest empire the galaxy has ever known. Millions of planets united in their adoration for the Emperor. But we are not alone… A massive space hulk is drifting towards Armageddon, and the planet is threatened by the war hungry brutal Orks. Welcome to the battlefield!"
"Warhammer 40,000: Armageddon is a fantasy war game set in the Second War of Armageddon. You take the role of defending the planet as the Imperium of Man against the Ork invaders. Throughout the campaign you will also be joined by three chapters of Space Marines: the Salamanders, Blood Angels and the Ultramarines."
"In this hex-based, turn-based strategy game, players will lead the Imperial forces of the Armageddon Steel Legion and Space Marines from a variety of Chapters against the Ork invasion through over 30 scenarios, on the hostile terrain of the planet and its gigantic Hive Cities."
"The game features a complex plot, involving known characters from the Warhammer 40,000 universe and while advancing through the campaign, the player will have the ability to carryover his core force from scenario to scenario."
"Players fight alongside Commissar Yarrick and Commander Dante against the cunning Ork Warboss Ghazghkull Thraka and carry over battle-hardened veterans from scenario to scenario, using their experience and upgrading their equipment.On top all this extensive modding options are available through a powerful and easy-to-use game editor."
******* KEY FEATURES *******
• Large branching campaign with 30 major scenarios, plus additional 5 tutorial scenarios that explore the story in detail.
• Hundreds of hours of gameplay fun with huge replay value and several difficulty settings.The game portrays the Second War for Armageddon in great detail, from the initial Ork landings to the final liberation of the planet.
• Fight alongside Commissar Yarrick and Commander Dante against the cunning Ork Warboss Ghazghkull Thraka.
• A complex plot, which can develop during a mission, right in the middle of battle, creating an engaging story line with unexpected twists.
• Meet several iconic characters like Inquisitor Horst, Governor Von Strab and many more, who will guide you through an epic scenario based adventure all with their unique voice-overs.
• Players lead Imperial troops of the Armageddon Steel Legion, with supporting assets from a number of Space Marine chapters against the ferocious Orks.
• Carry over battle-hardened veterans from scenario to scenario, using their experience and upgrading their equipment and weaponry.
• Detailed combat model with custom terrain, cover and morale effects.
• Guide your troops on Armageddon`s hostile ash wastes, through treacherous volcanic canyons, over acid polluted rivers, through dense jungles and through massive Hive cities.
• 300+ unit types representing Armageddon Steel Legion, the Orks, Blood Angels, Ultramarines and Salamanders Space Marine chapters and even Titans!
• Multiple weapon systems per unit, each with their unique stats and graphical effects.
• 20 different unit stats plus many unique special traits and abilities.
• Toggle options to set the game to your own liking like to enable/disable: Fog Of War & Undo Moves.
• A separate set of maps are designed and balanced specifically for asynchronous multiplayer via Slitherine's PBEM++ system.
• Play as either Orks or the Imperial forces in multiplayer.
• Includes a Hotseat mode.
Xenowerk ($1.99) (Universal)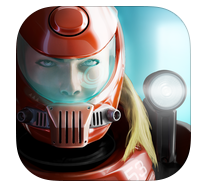 "Be the last hope against the mutant infestation. Enter the aftermath of a scientific experiment gone horribly wrong. Xenowerk comes from Pixelbite, the creators of Space Marshals. It is a top-down action shooter challenging your combat skills in an underground science lab. Descend deeper into the abyss and explore the tarnished levels. Armed with a flashlight as your main guidance, you'll never know what's lurking in the dark!"
MISSION
Your objective is to destroy all the nests and eliminate all mutants to prevent them from spreading.
Xenowerk™ has 50 levels to explore with increasing difficulty. As progressing through the game you'll come across a growing number of mutants and expanding areas to cleanse.
ARSENAL
Heavier firepower and thicker armor is critical to stay alive on your journey. Gather pickups from slain mutants to power up weapons and armor.
SPECIAL POWERS
Xenowerk™ features a set of special powers to boost your offensive when you're in need. Activate one or several at a time for a more effective way to wipe out mutants.
******* KEY FEATURES *******
• Top-down action shooter
• Dual stick touch controls
• Beautifully rendered lighting and shadows
• Wide range of weapons and gear
• Upgradable weapons
• Special Powers to enhance your gameplay
• Performance based rating system
• iCloud save game support
• Game Center Achievements & Leaderboards
• Social invites to challenge your friends
• Optional in-app credit packages to purchase
Living Legends: Ice Rose HD - A Hidden Object Fairy Tale ($6.99)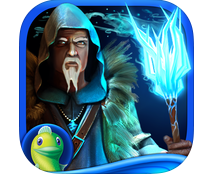 "Your husband, novelist Edward Grand, disappears soon after leaving to investigate the town of Rosemount. All you can do is follow him. What you find is a deserted town, frozen under the Ice Queen's spell."
******* KEY FEATURES *******
• RESCUE YOUR BELOVED FROM THE ICE QUEEN!
With each step you take, the Ice Queen stands in your way. Discover the truth behind her desire to keep Edward hidden from you.
• EXPLORE A FROZEN WORLD
Rosemount is both beautiful and dangerous, buried under a layer of ice and snow. Discover all its secrets as you search for Edward.
• BRING SPRING TO A LAND OF WINTER
In order to defeat the snow queen, you must thaw out the people and locations along your journey.
• UNLOCK THE SECRETS OF ROSEMOUNT WITH THIS COLLECTOR'S EDITION!
Reveal more of your story in the bonus game. Experience the beautiful concept art and wallpapers in this amazing Hidden Object Puzzle Adventure.
Star Wars - Heroes Path ($3.99) (Universal)
"Lead the Rebel Alliance to victory! Guide Luke Skywalker, Han Solo, Princess Leia, Chewbacca, and Obi-Wan Kenobi through perilous puzzles that will wrack your brain and test your luck! Use the characters' special abilities as you travel from Tatooine to the Death Star, but watch out—every move can trigger enemy reactions that will change the game and your strategy in an instant! Experience A New Hope in a whole new way as thrilling motion comics keep the story of the classic adventure intertwined with play."
******* KEY FEATURES *******
• Enjoy an exciting interactive reimagining of Episode IV: A New Hope as you master each puzzle environment!
• Test your skill in 6 exciting environments and dozens of levels.
• Find multiple solutions to each level, and overcome obstacles in whatever way you like best. Earn achievements for innovative solutions!
• Unlock new heroes in every chapter! Every hero has an exciting special ability, including decoy holograms, lightsabers, blasters and more!
• Don't forget your back-up! Get other members of the team to help. Deploy R2-D2 to hack gates, Chewbacca for a massive attack, and more!
• Ramp up from basic foes to crafty officers, moving platforms, trap doors, forcefields, and hidden intel!
• Earn hero powers and hints by completing daily challenges.
• Four heroes and six chapters with download, two more heroes and four more chapters plus new environments with in-app purchase!
Spell Block Academy (Free)
"Salutations Young Wizard! Your hunger for knowledge and natural talent have led you here to Spell Block Academy – the pre-eminent School of Magic. The first lesson that Magicians learn is that the command of language is the key to shaping the world around them."
"As a Magus-in-Training, you will be provided with the tools you can use to enhance your magical vocabulary. The Spell Blocks are the key! Spell Blocks will sharpen your familiarity and recognition of the words that will shape your destiny. The more you play, the more you'll learn!
Spell Block Academy is a spatial-movement, word, puzzle game designed to be fun for all ages. It has been constructed to have specific value for early-primary players, with a dictionary that reinforces familiarity with common word families and high-frequency words to help develop literacy. The game also has a dictionary editor, which allows teachers and parents to create custom dictionaries that can be used to support classroom/homework goals."
"The game also has an "Advanced Wizardry" mode, using the same mechanics but with a fantasy-themed dictionary. This game mode is designed to be fun and engaging for older players, but also serves to introduce new words to younger players who try it."
SidTracker64 ($12.99)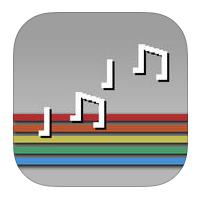 "SidTracker64 is the ultimate chiptune production package tool for the iPad. It emulates the SID sound chip from the dominating home computer of the 80s - The Commodore 64."
"Get started immediately with the bundled songs and sounds in various styles, from old skool bleeps n blips to new school with multi speed and advanced table editing. Explore, remix and make new songs based on the old classic c64 game tracks 'Commando' by Rob Hubbard or 'Blood Money' by Fredrik Segerfalk, and the brand new youtube remix hit of the 'True Survivor' Kung Fury soundtrack, all included in the app."
"SidTracker64 is a retro-style music creation tool and synthesizer combined with modern features such as midi keyboard and controller input, Audiobus 2 and Inter App Audio for recording in your favourite DAW-app. Midi clock in lets you sync to other apps and hardware drum machines and synthesizers, such as the Elektron Analog Four."
"SidTracker 64 can be used for live looping, making complete songs, and the minimum latency makes it suitable for live use. Export your music to Dropbox and e-mail as audio or .sid and even .prg files which you can run on a real Commodore 64."
"Editing is based on hands on touch interaction or midi input instead of the hardcore style of direct data editing. Record live to a metronome or input notes step-style. Real SID-composing has never been simpler and more fun!"