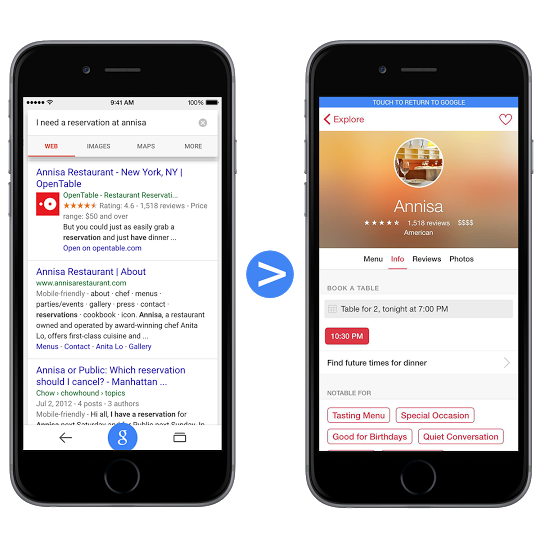 Google announced today that it is has begun indexing iOS apps with a "small group of test partners". This means iOS users will eventually be able to open app content directly from Google Search on their iOS devices. The initial test links will begin showing in the Google App and Chrome for "signed-in users globally in the coming weeks."
Google also published a list of guidelines for app developers who want to prepare their apps for App Indexing. Google noted that even though there is already a planned launch with a few test partners, they still want to make the technology "available to more app developers as soon as possible".
The announcement comes one day before Google I/O is set to kick off at the Moscone Center in San Francisco, California, and a couple of weeks before Apple's Worldwide Developers Conference. Apple is expected to announce a competitor to Google Now, code named "Proactive," in iOS 9 at the event.
The new feature will "automatically provide timely information based on the user's data and device usage patterns," according to 9to5Mac. The information will be pulled from "Siri, Contacts, Calendar, Passbook, and third-party apps," while respecting a user's privacy preferences.
You can read more about how "Spotlight will become a Google Now rival" by hitting the link above.