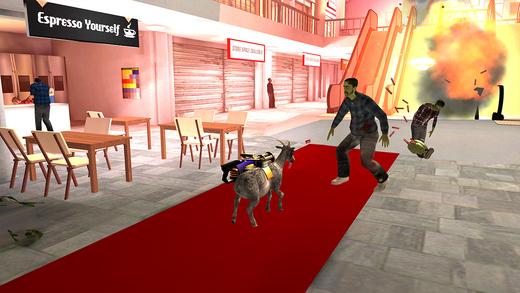 Coffee Stain Studios has released GoatZ to the Apple App Store. GoatZ is an expansion for Goat Simulator on Steam, but it has been released as a standalone app for iOS and Android. The game combines two of the most popular genres in gaming -- zombies and goat simulations. Coffee Stain describes it as the possibly their dumbest creation with mandatory crafting and lots of bugs. GoatZ is available for $4.99. Goat Simulator has also been reduced to $1.99 on the App Store.
GoatZ Features
Mandatory crafting system - Craft anything in the world, as long as it's one of the half dozen weapons in the game
Zombies, zombies everywhere because this is a zombie game, remember?
A pretty big map with some stuff on it
Fully fledged survival mode where you have to eat every five minutes to survive, just like your grandmother
Turn humans into Zombies and loot some crates. Just like your grandmother
Also a casual mode for people who don't like feeding their goat every five minutes
Tons of new unlockable goats with special powers - shrink people's heads, hang glide, wreak havoc, spit and be a goat. For real
Here are the rest of this week's most noteworthy iPad app releases for 05/03/15 to 05/09/15. Apple's Free App of the Week is Toca Nature. The game will be free on the Apple App Store until 05/14/15. Also don't forget to check out our App Store recap every Saturday for all the weekly universal releases, jailbreak tweaks, App Store news and important app updates.
Legend of Grimrock ($4.99)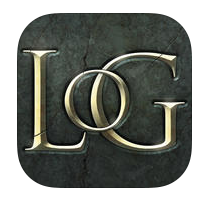 "Legend of Grimrock is a dungeon crawling role playing game with an oldschool heart but a modern execution. A group of prisoners are sentenced to certain death by exiling them to the secluded Mount Grimrock for vile crimes they may or may not have committed. Unbeknownst to their captors, the mountain is riddled with ancient tunnels, dungeons and tombs built by crumbled civilizations long perished now. If they ever wish to see daylight again and reclaim their freedom the ragtag group of prisoners must form a team and descend through the mountain, level by level."
"The game brings back the oldschool challenge with highly tactical real-time combat and grid-based movement, devious hidden switches and secrets as well as deadly traps and horrible monsters. Legend of Grimrock puts an emphasis on puzzles and exploration and the wits and perception of the player are more important tools than even the sharpest of swords could be. And if you are a hardened dungeon crawling veteran and you crave an extra challenge, you can arm yourself with a stack of grid paper and turn on the Oldschool Mode which disables the luxury of the automap! Are you ready to venture forth and unravel the mysteries of Mount Grimrock?"
******* KEY FEATURES *******
Explore a vast network of ancient tunnels, discover secrets and find a way to survive in the perilous dungeons of Mount Grimrock
Cast spells with runes, craft potions with herbs and fight murderous monsters with a wide variety of weaponry
Create a party of four characters and customize them with different races, classes, skills and traits
Pure blooded dungeon crawling game with grid-based movement and thousands of squares riddled with hidden switches, pressure plates, sliding walls, floating crystals, forgotten altars, trapdoors and more
Experience a real labour of love, created by passionate game industry veterans. A spectacular big screen experience, now on your iPad
Doodle Tanks HD ($2.99)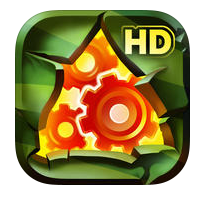 "From the creators of the award winning Doodle God & Doodle Devil comes a new ALL ages puzzle game with a fun historical twist. Combine artillery and other elements to create dozens of World War II tanks and armored vehicles. Start with four basic elements and watch your creations come alive as you create historically accurate tanks and armored vehicles that once rolled across Europe and Africa. Along the way, learn about the historic events and designers that shaped the outcome of the free world. It's time to go to War in Doodle Tanks!"
******* KEY FEATURES *******
Available in 6 languages: English, German, French, Russian, Spain, & Portuguese
Dozens of Tank and Armored Vehicles to Engineer and Build
Over 80 reactions to perform and over 100 elements to combine
Learn about the legends of Tank & Armored Vehicle Design
ALL ages puzzle fun with a historical twist
Forestwalker (Free)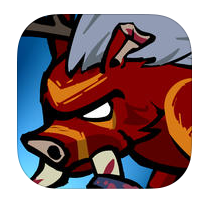 "Battle through the dark and dangerous forest in this unique, fun, and COMPLETELY FREE Adventure game exclusively on iPad! Strategically move your heroes and crush your enemies. Forestwalker features gameplay unlike anything you've played before."
Reasons to Love Forestwalker (according to the developer):
COMPLETELY FREE! No In-App Purchases or Ads!
Totally unique gameplay
A satisfying mix of strategy and speed
A fun twist on classic fantasy themes
"A grand adventure awaits you in the Dark Forest! Help the Family of Heroes find their missing children. Use quick thinking and fast fingers to defeat the forces evil in Forestwalker and recruit powerful members of your Family to help you in your quest!"