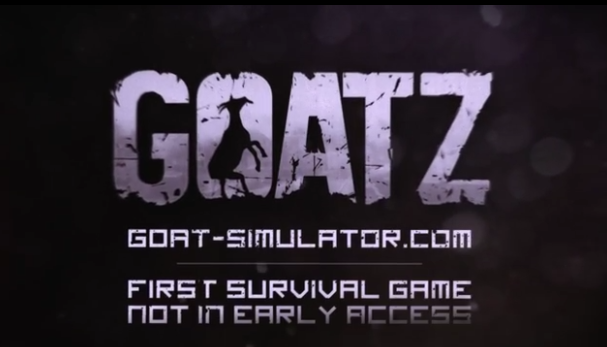 If you've been wishing for a video game where you can craft items and fight zombies as a goat then today is your lucky day. Coffee Stain Studios has just released a trailer to Goatz -- the first zombie goat simulator. Goatz is an expansion to the popular Goat Simulator on Steam, but it will also be released as a standalone app for iOS devices on May 7.
The trailer promises a "poorly scripted" goat simulation with lots of zombies, bugs, and a new crafting system where you can craft the half dozen weapons already available in the game.
For those who have never played the original, it is a goat simulation game featuring the latest "goat simulation technology," intentional bugs and lots of tomfoolery. Goat Simulation is available on Steam, Xbox 360, Google Play and the App Store. The game supports the iPad 2 or newer, iPhone 4s or newer, and fifth-generation iPod touch running iOS 6.0 or later.
Goatz will be released simultaneously on Steam as DLC for Windows, Mac and Linux and on the Apple App Store and Google Play for $4.99.