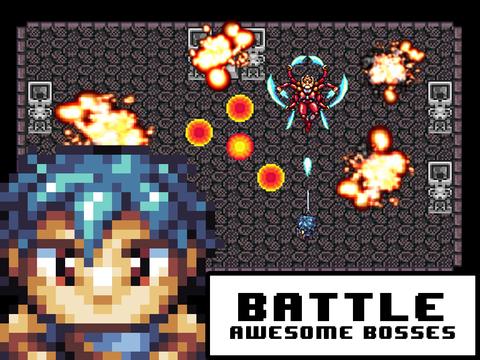 The book Swiss Family Robinson ins't the first thing that comes to mind when thinking about role-playing games, but the famous shipwrecked family is exactly what inspired the new game Destiny Emerald. The new RPG from Watermark is all about working together as a family. The story follows the Darkslays, a family of 16-bit warriors who must find the Five Shards of the Destiny Emerald.
In the game players must crawl a massive dungeon filled with monsters and other hazards, while solving puzzles and collecting a variety of weapons and gadgets to help them complete their journey. Players can play as four different family members, each with their own unique class, attacks and abilities. The look of the game is inspired by classic RPGs such as Legend of Zelda, but the story is all about a family who stays together because they slay together. Even Grandpa and Grandma get in on the action as supporting characters.
Destiny Emerald is available now on the App Store for $2.99. It supports all iPad models running iOS 6.0 or later.
Here is a look at the Darkslay family:
Zem Darkslay

"One of the mightiest warriors ever in the Darkslay line who's performed numerous heroic deeds in his youth. However, even living legends get old. Surprisingly, his teaching abilities may be even better than his fighting."
Maya Altair Darkslay

"Daughter of the Archmage Jed; graduated top of the class at Wizardry Academy. One of the strongest battle mages of the age. Unfortunately, neither of her children inherited her magical gifts. Or...did they?"
Rokas Darkslay

"Headstrong and a little reckless, he's focused on stamping out evil and bringing glory to the Darkslay name. Rokas is proficient with the sword and shield. He can also fire Blade Aura from his sword when he has full hearts."
Lilith Darkslay

"While not as strong as her brother, this rogue-in-training always has ranged attack with her nasty kunai and knives. She's proficient at picking off monsters from a safe distance. She also moves a little faster than her brother."