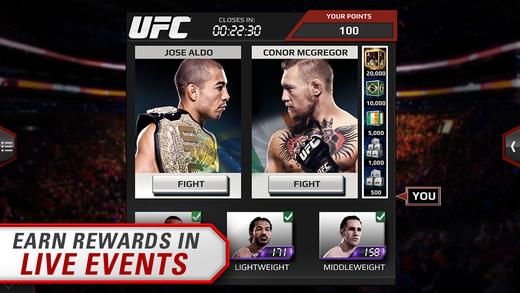 After soft launching its latest UFC fighting game to the App Store earlier this year, EA has finally released EA Sports UFC worldwide. The game is another EA pay as you play title where players can collect UFC fighters to compete for in-game rewards.
EA Sports UFC features the same basic touch screen controls as other popular mobile fighting games like WWE Immortals. Players can throw punches and kicks by tapping the screen and use swipe motions to throw special moves. What sets UFC apart from other fighting games is the ability to use a meter to complete grappling moves when taking your opponent to the ground. Besides the ground-and-pound mechanics, UFC is pretty much like all the other fighting games on mobile devices.
Players can earn coins by competing in matches and use them to unlock new UFC fighters and level up abilities. The game features a career mode, in-game live events based on real UFC fight cards, Main Event matches and leaderboard support.
EA Sports UFC is available for free on the App Store. The game supports all devices running iOS 7.0 or later. It also includes in-app purchases.