UPDATE: Click here for iPad Air 2 deals.
It is uncommon for third party retailers to discount new Apple products on the day they're released, however Walmart, Best Buy and Radio Shack did offer the iPhone 5c for less than its SRP on its launch day. It looks like the same is happening with Apple's fifth-generation iPad. Walmart was the first retailer to announce that it would offer the iPad Air for $20 less than its SRP. If the iPhone 5c and iPhone 5s are any indication, other retailers should follow Walmart's lead and also offer the new Apple tablet at a discount.
UPDATE: The free product tracking service whohas.it has added an iPad Air Deal tracker. You can sign up for free deal alerts using the website or iOS app. The service is free and will send you an email or mobile alert whenever the iPad Air is on sale. You can also follow us @TheiPadGuide for future sale announcements or just keep checking this page.
2014
Click here for 2014 Black Friday deals.
08/18/14 to 08/23/14 Save $50 on any iPad Air model at Target.com
07/09/14 to 7/12/2014 Receive a $100 gift card when you buy any iPad Air model from Target.com
06/15/14 to ???? Save $20 on a 16GB Wi-Fi only model at MacMall
06/02/14 to ??? Target is giving away a $50 gift card with the purchase of select iPad Air models
05/30/14 to ??? Amazon.com: Save $25 on a 16GB Wi-Fi only iPad Air
05/14/14 to ??? Best Buy is offering all 4G LTE models at a large discount when you sign a new 2-year contract with AT&T, Verizon or Sprint.
05/08/14 to ??? Newegg Tech Up for Summer Sale: 64GB Wi-Fi-only iPad Air for $679.99
04/12/14 to ??? T-Mobile Operation Tablet Freedom: Pay the iPad Air Wi-Fi model price for the 4G LTE equivalent! See the chart below for examples, and hit the link above to learn more about this limited time deal.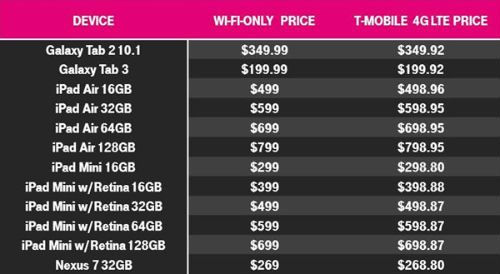 03/27/14 to 03/29/14 - Target Cartwheel 10% off iPad Air plus and additional 5% off when using your Target Red card in-store. For example, you can save 15% on an 16GB Wi-Fi-only iPad Air making it only $425. Click here for more info.
02/23/14 to 03/08/14 - Best Buy is offering up to $200 off on select iPad models including the iPad Air. Click here for more info.
02/09/14 to 02/15/14 - Target is offering a $50 gift card with the purchase of a 16GB iPad Air.
2013
Black Friday 2013:
Target - iPad Air for $479 w/ $100 gift card (11/28 to 11/30)
Here is a list of announced iPad Air prices from third party retailers and carriers:
Walmart
16GB Wi-FI Only Model $479
T-Mobile
iPad Air Wi-Fi + Cellular
16GB - $0 down with 24 equal monthly payments of $26.25
32GB - $99.99 down with 24 equal monthly payments of $26.25
64GB - $199.99 down with 24 equal monthly payments of $26.25
iPad mini 2
16GB - $0 down with 24 equal monthly payments of $22.08
32GB - $99.99 down with 24 equal monthly payments of $22.08
64GB - $199.99 down with 24 equal monthly payments of $22.08
iPad mini
16GB - $0 down with 24 equal monthly payments of $17.91