ZAGG now offers the iPad ZAGGmate, an aircraft-grade aluminum hard cover protector that comes with or without an integrated Bluetooth keyboard. Packing military grade high-density padding for drop protection and a 510 mAh lithium polymer battery, the ZAGGmate keyboard lasts weeks on one charge. ZAGG designed this case to match the iPad perfectly, and the keyboard model adds only 1/4 inch to the iPad's thickness when closed.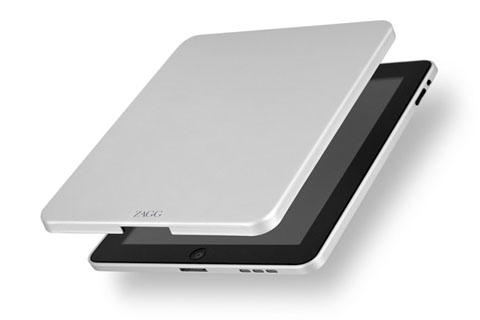 The non-keyboard ZAGGmate is half as thick, and weighs only 7 ounces. Add the keyboard and weight comes in at just 12.8 ounces, while an adjustable hinge supports varied typing and viewing angles. Special function keys have been included on the keyboard and ZAGGmate holds the iPad in portrait or landscape orientation.
ZAGG won a 2011 International CES Award in design and engineering for the ZAGGMate. The accessory is available for pre-order with free shipping to the lower 48 states for $69.99. For an extra $30, ZAGGmate will come with an integrated wireless keyboard and microUSB charging cable, totaling $99.99.
To pre-order the ZAGGmate iPad case, or to see more information and photos check out ZAGG's website.