Sure some people might keep a shopping list on their iPhones, but how many of you can't leave the iPad at home? A London grocery store is testing out shopping carts (known as trolleys in the UK) with built-in iPad docks on the handle.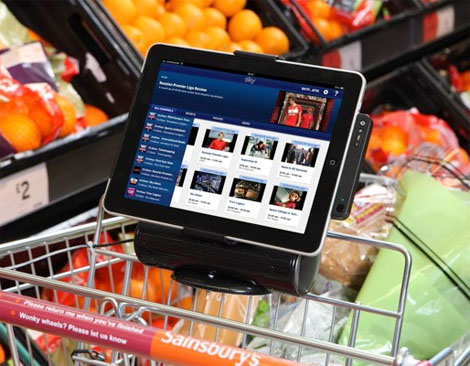 Not only this, but the docks have speakers for audio and integrated solar panels with batteries for recharging the iPad. The pilot program is a partnership between the Saintsbury's chain of grocery stores and broadcaster Sky. For its part, Sky is promoting its Sky Go app, which makes it possible for iPad users to watch 32 channels of live television.
The subscription service is being touted as a way for soccer fans to never miss a match, even while grocery shopping. Although the special shopping carts have sensors which alert engrossed iPad watchers to impending collisions, there's no telling how a store full of soccer hooligans watching competing teams might react to each other.
Aisles full of distracted shoppers blaring their own audio content across the way might sound like a science-fiction horror film, but Saintsbury's believes the technology will encourage business by attracting more shoppers to stores equipped with these super-carts. Of course the iPads are not included.
Should the trial period be successful, the grocery store chain plans to deploy the carts across the country. The Sky Go app is free for iPad and iPhone owners but requires a subscription and Wi-Fi connection to watch.