Apple's new iPad will be available on March 16 at 8:00 a.m at all Apple store locations. If you're looking for alternatives to standing in line there are a few options. AT&T and Verizon will also be offering the next generation iPad through all sales channels on March 16. However, carrier retail locations are known for not having enough product to meet demand, and only want to sell you their data plans. Since the iPad does not require a carrier contract there is no reason to buy a data plan right away. You must also choose either AT&T or Verizon since the iPad is only configured to work with one. If you're buying a 4G model, Verizon is the better choice due to its superior LTE network and free personal hotspot service.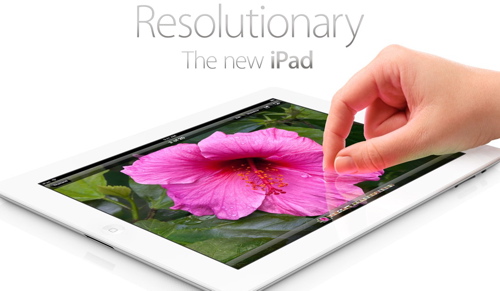 Apple also announced that the new iPad will be available at Best Buy, Radio Shack, Sam's Club, Target and Walmart. It's unknown if these retail outlets will have enough supply to meet demand, but they do offer you an alternative to standing in line at an Apple store.
First time iPad buyers will benefit from Apple's free Personal Setup service. Apple store employees will be on hand to customize all iPads by setting up email, loading new apps from the App Store and more.
Pricing
The new iPad Wi-Fi models will be available in black or white starting on Friday, March 16 for a suggested retail price of $499 for the 16GB model, $599 for the 32GB model, and $699 for the 64GB model. The 4G models will be available for a suggested retail price of $629 for the 16GB model, $729 for the 32GB model and $829 for the 64GB model.
Data Plans:
AT&T
250MB per month - $14.99
3GB per month - $30
5GB per month - $50
Verizon
1GB per month - $20
2GB per month - $30
5GB per month - $50
10GB per month - $80
All four Verizon plans will include free hotspot support. It's unknown when AT&T will offer the same service.
The new iPad will also be available online on March 16, however, shipping times are estimated at "two to three" weeks. Apple had trouble keeping up with iPad 2 pre-orders last year. If you would like to receive a new iPad in a timely fashion standing in line on March 16 is your best bet.
Starting March 23 the new iPad will be available in Austria, Belgium, Bulgaria, Czech Republic, Denmark, Finland, Greece, Hungary, Iceland, Ireland, Italy, Liechtenstein, Luxembourg, Macau, Mexico, The Netherlands, New Zealand, Norway, Poland, Portugal, Romania, Slovakia, Slovenia, Spain and Sweden.