Rodeo Games' Warhammer Quest is Apple's Free App of the Week. The mobile game is based on the Games Workshop tabletop version that was popular in the 80s and 90s. The game normally retails for $4.99 on the Apple App Store, but it will be available free of charge until April 17, 2014.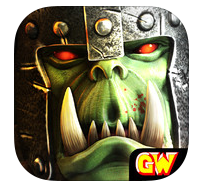 Warhammer Quest is an RPG / strategy game set in a fantasy medieval world filled with elves, dwarfs and so on. The game has been met with mostly positive reviews since its launch, however, it does take a little patience and a lot of love for the genre to get totally immersed.
Warhammer Quest does feature in-app purchases so you can quickly upgrade your gear or level up, but players do not need to spend lots of real cash to enjoy the game. You can also buy additional heroes and expansion packs, but once again this isn't necessary.
The game features over 40 hours of gameplay (counting expansions), iCloud support, and randomly generated dungeons with plenty of orcs, goblins and other creatures to battle.
Warhammer Quest is definitely worth a download for RPG fans, especially now that it is free. The game requires iOS 6.0 or later and it is compatible with all iOS devices, but it is much more enjoyable on the iPad.
You can download Warhammer Quest now for free from the Apple App Store for one week.