Walmart today announced that it will be rolling out some of its Black Friday deals one week early starting Friday, Nov. 21 at 8:00 a.m.. The retailer will also match some of its competitions Black Friday deals on 40-inch LED HDTVs, LEGO sets and more. One deal that popped up on Walmart.com is a PlayStation 4 bundle with Grand Theft Auto V and The Last of Us for only $399.99. This is a great deal considering the console itself retails for the same price, so you're basically getting two games for free.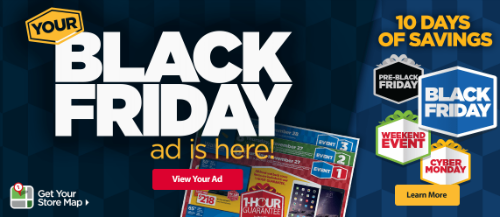 As for Apple products, Walmart shoppers will be able to nab a 16GB iPad Air 2 for $489 and receive a $100 Walmart gift card with their purchase. Walmart is also giving away a $75 gift card with the purchase of an iPhone 6, and the new Apple smartphone will be available for only $179 with a two year service agreement on Sprint, AT&T or Verizon. The iPhone 5s will be on sale for $79 with a new contract.
Here's the rest of the pre-Black Friday deals Walmart listed in its press release:
4-Pc Table Tennis Set – $79 (special buy)
A variety of "Frozen" special buys
Black & Decker 18v 2-Battery NiCad Drill – 69.88 ($20 savings)
Hoover High Performance Bagless Upright Vacuum – $98 (special buy)
Walmart's Black Friday event begins online Thanksgiving morning with the in-store sales kicking off at 6 p.m. and 8 p.m.. The Black Friday sales will last all weekend long and carry into Cyber Monday.
You can see more Black Friday deals from other retailers such as Target and Best Buy here.