Now that Verizon Wireless will start selling the iPad next week, subscribers can take advantage of special data rates on the company's 3G cellular data network. In order to qualify for the special month-to-month data plans, Verizon customers must purchase the iPad and MiFi promotional bundle. Those who already have MiFi units will not be eligible for the iPad data plans.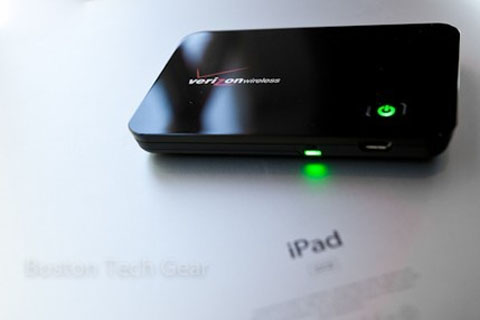 The MiFi creates a portable Wi-Fi hotspot wherever Verizon's cellular data network has service, and can be powered via USB or with the included four-hour lithium battery. Up to five Wi-Fi devices can be connected to the MiFi within 25 feet of the device. Verizon will sell the Wi-Fi only version of the Apple iPad since the iPad 3G hardware is only compatible with the AT&T network.
Verizon discounts normal MiFi data plan prices with the iPad and MiFi bundle, offering three different month-to-month plans. $20 for 1GB, $35 for 3GB and $50 for 5GB. An extra gigabyte over the limit will cost an additional $10 (or $20 on the 1GB plan). For comparison, AT&T offers only two data plans on the iPad 3G, $15 for 250MB and $25 for 2GB. iPad + 3G models cost an additional $130 over the Wi-Fi only version.
Verizon will sell all three Wi-Fi iPads at the same Apple retail prices found elsewhere. The bundle including a MiFi 2200 device goes for an additional $130, making iPad + MiFi pricing identical to iPad + 3G pricing: $630 for a 16GB iPad, $730 for 32GB and $830 for 64GB. The big difference is the data plan pricing for iPad bundle buyers.
Normally, purchasing a MiFi device costs $270 without a contract, however the device can be purchased for $100 with a two-year agreement. Special online pricing comes with a $100 discount that makes the MiFi device free when purchased with the two-year agreement. Data plans are more expensive than the iPad bundle prices: normal monthly charges are $40 for 250MB or $60 for 5GB of data and must be paid for the duration of a one-year or two-year contract. Users can go month-to-month without a contract.
For those in the market for an iPad, Verizon now offers another option for mobile data. One advantage of the MiFi bundle is that the MiFi device and data plan can be used with other Wi-Fi devices besides the iPad. If you're feeling ambitious, you can even install the MiFi hardware inside your iPad, although it's sure to void your warranty.