If you're on the fence about whether to upgrade to the newly announced iPad 3, knowing you can do it for up to $200 less may help you pull the trigger. By taking a few simple steps to sell the iPad you currently own, you can greatly cushion the blow of investing in the new retina-display iPad 3.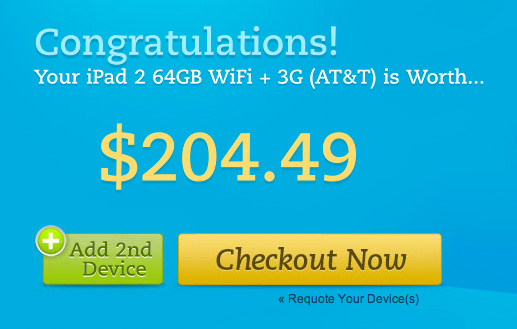 Totem, an online buyer of used smartphones, iPhones and iPads is currently offering up to $200 for various models of the iPad 2. If you're coming from the original iPad, you can still get over $100 for your trade in. All of the sudden, getting the shiny new iPad 3 for as low as $299 no longer seems so daunting.
To see how the process works, visit HelloTotem.com, pick your iPad generation and model and specify its condition. You'll get an instant quote, a quote which Totem indicates is reliable 98% of the time. According to Totem, when quotes do change, it is typically from customers overstating the condition of their device (and don't worry, if you understate the condition of your device, Totem will up your payout). If you accept Totem's quote, you'll receive a postage pre-paid mailer that you simply put your iPad in and ship back to Totem. Once Totem receives and processes your iPad, they issue payment.
Payment can be issued via check or via PayPal and, if your used phone arrives at Totem before 10am on a business day, they'll issue payment that day.
While Totem isn't the only option for individuals out there hoping to turn their current iPad into cash that they can use to upgrade to the iPad 3, it offers a level of convenience many buyers find of premium importance. WIRED magazine, which featured Totem in a recent article, pointed out that while do-it-yourself sales approaches such as eBay and Craigslist may offer a higher payout for your device, the seller (you) is "responsible for managing shipping, payment, or even babysitting your auction listing and answering questions from potential buyers."
Visit HelloTotem.com for more info on selling your iPad.