Telltale Games announced today that The Walking Dead Season Two, Episode 2: A House Divided is now available for Mac / PC and PlayStation 3 download. The second episode of the hit game will also be available for the Xbox 360 tomorrow, and it will land on the App Store on March 6th.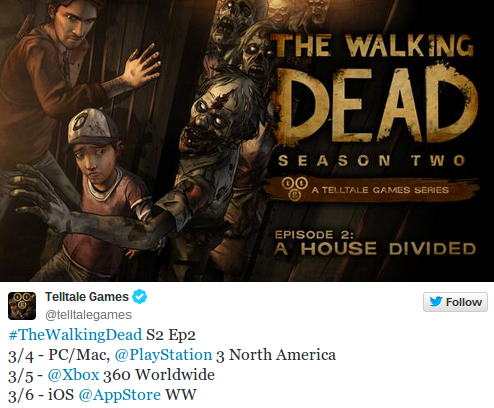 You can download the full season for your Mac or PC for $25 via Amazon.com. Or you can download Episode 1 for the iPad or iPhone for $4.99 via the Apple App Store and purchase additional episodes as they're released.
The second season of Telltale's episodic video game takes place in the same fictional world as Robert Kirkman's The Walking Dead comic book series. The game follows the story of a young orphan named Clementine as she tries to survive the zombie apocalypse.. Players must help Clementine make gruesome decisions as she navigates her new world.
The game features five episodes that will be released periodically in 2014. The episodes include:
Episode 1: All That Remains
Episode 2: A House Divided
Episode 3: In Harm's Way
Episode 4: Amid the Ruins
Episode 5: No Going Back
The Walking Dead: The Game - Season 2 is compatible with the iPhone 4s and up and the iPad 2 and up. It is rated 17 or older for violence and language.